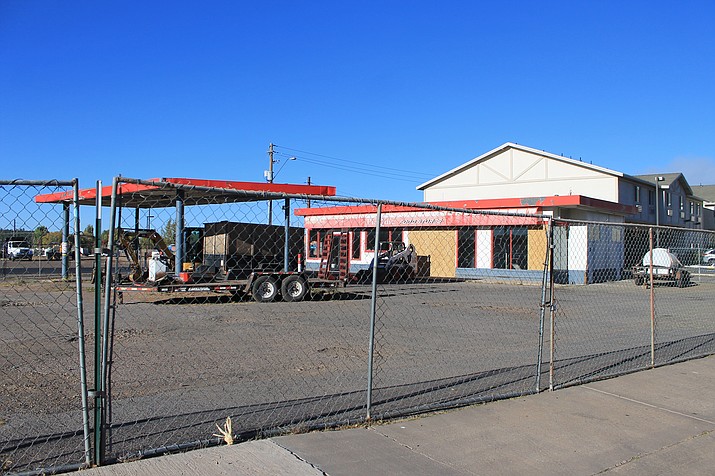 Photo by Wendy Howell.
Originally Published: October 24, 2017 1:53 p.m.
Mike Cowan, owner of the Pic Quic store on the west side of Williams, said crews are currently working on the inside and outside of the store in order to make upgrades to the infrastructure.
"Right now we're starting on the water and the sewer because it needs to be re-done. Everything needs to be re-done — the infrastructure," he said.
Cowan said he has a few ideas about what he would like to put in at the location but has not currently decided on one. Before reaching a final decision, he plans to finish the first phase of making upgrades and renovations.
"This way I can really take a look at it and see what I got and make some decisions. Especially on the inside. Just tearing out all the inside and really getting a good look at it and see if any of the ideas that I have (to put in the building) will work," he said.
Cowan said at this point he knows there is a lot of old infrastructure to work on and has plans to upgrade the bathroom to be ADA accessible.
"The water and sewer and everything is all around 50 or 60 years old, so no matter what I do it needs to be re-done. So I'm just moving forward and hopefully I'll make some decisions and just keep going."
The history:
Originally owned by Standard Oil Company, the location has been used as a Chevron station and a Pic Quic store. Mike Cowan took over ownership around four years ago.
The timeline:
Cowan said the project does not have a timeline at this time. "I don't. First I've got to figure out what I'm going to do and then I'll come up with a timeline, but hopefully with some of the ideas I have it will be good," he said.

More information:
The former Pic Quic building is located at the west side entrance of Williams at the intersection of Route 66 and Railroad Avenue.