Originally Published: October 11, 2017 11:48 a.m.
WILLIAMS, Ariz. - Flagstaff Police Department is attempting to locate Cathryn Gorospe, who was last seen in Flagstaff Oct. 6. Gorospe was seen at the Coconino County Jail bonding out Charlie Malzahn.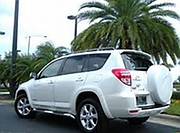 Gorospe was reported missing by her roommate Oct. 8. Malzahn was located Oct. 9 in Gorospe's vehicle, without Gorospe, and was arrested after fleeing police.
An acquaintance of Malzahn said the vehicle, a 2010 Toyota Rav 4, had sustained damage and was missing end pieces of the rear bumper and had damage to the front quarter panel. The acquaintance also said there was blood on the center console, interior passenger door, sunroof and interior driver panel door. The person also said Malzahn had a cut his right thumb.
The vehicle had several Green Bay Packers stickers on it.
It is believed that Malzahn and Gorospe left Flagstaff traveling west via I-40 toward Williams. It is believed that Malzahn took the vehicle from Gorospe at some point during his travels through Chino Valley, Prescott, Prescott Valley, and Dewey. He then took I-17 south to Phoenix, then on to Tempe, Gold Canyon and on to Clifton, Ariz.
According to police, Malzahn attempted to buy drugs and purchase a gun in Clifton, and was contacted by the Tucson Police Department Oct. 7 for using a female's credit cards.
Malzahn was arrested Oct. 9 by Phoenix Police Department following a pursuit.
Malzahn and Gorospe have ties to the Williams area. Malzahn was booked into Coconino County Jail Aug. 20 after an arrest by the Williams Police Department for vehicle theft, possession of gun, and entering an establishment with a weapon.
Investigators believe Gorospe is in danger and are asking for the public's assistance in locating her. Anyone who saw Malzahn, Gorospe or the white Toyota Rav 4 with Green Bay Packers stickers on it, is encouraged to contact the Flagstaff Police Department at (928)774-1414.