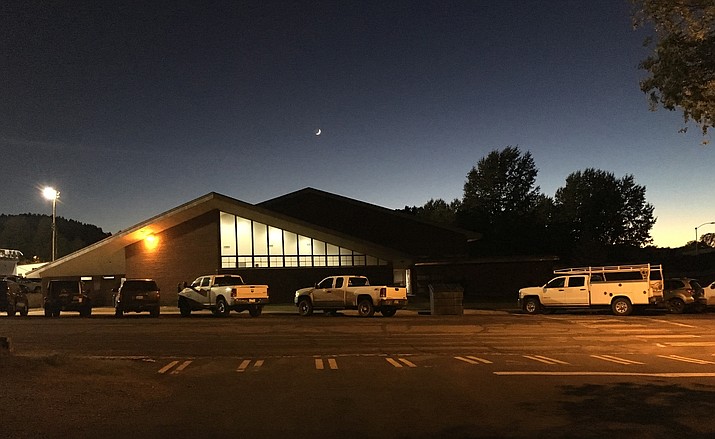 Photo by Wendy Howell.
Originally Published: October 10, 2017 1:14 p.m.
Arizona school letter grades have been released by the Arizona Department of Education (ADE) for the 2016-2017 school year, and administrators at Williams Unified School District are pleased with the results.
Both Williams High School (WHS) and Williams Elementary-Middle School (WEMS) received B grades from the Arizona Department of Education. The last time the grades came out — 2014 — WHS received a C and WEMS received a D.
Of the 13 area high schools, Williams was one of only four that received a B or higher rating in 2017. Northland Preparatory Academy and BASIS Flagstaff were the only area schools to receive an A. Williams and Sedona Red Rock were the only schools to receive a B. Sedona received an A in 2014.
Flagstaff High School dropped from being an A school in 2014 to a C school in 2017. Coconino High School also received a C, the same as it received in 2014.
Seligman High School received the only F, after receiving a C in 2014. No grade was reported for Ash Fork High School.
"I don't think we've been a D school for the past three years, I think we've been improving," said Williams Unified School District (WUSD) Superintendent Rick Honsinger about the rating it received in 2014. "They (ADE) changed the test from the AIMS to the AzMERIT and dragged their feet giving out grades, so Williams was stuck with a low grade. We have been wanting to do something about it."
Of the 40 area elementary schools, WEMS was one of 14 schools to receive a B or higher grade. Haven Montessori and BASIS Flagstaff were the only elementary schools to receive an A. Of the schools in outlying areas, WEMS, Maine Consolidated, Fredonia, Sedona Charter and Bonnie Brennan (Winslow) were the only schools with B grades. Heritage Charter School (combined with its Glendale campus) received a C.
According to the ADE, state-wide 294 elementary and high schools received an A, 602 received a B, 535 earned a C, 204 schools were given a D, and 54 schools earned an F.
How grades are determined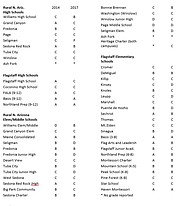 The grades are based on the quality of the schools on an A-F system, with the state's AzMERIT standardized test results weighing heavily for elementary schools.
At the high school level, half of the grade is dependent on AzMERIT results and improvements on the AzMERIT and the rest of the grade is determined by graduation rates and how well schools are preparing students for post-secondary careers.
School district grading is of concern for administrators and parents since many parents use the grades to determine which school to enroll their children in, and even where to live.
"You can't just put up flashy signs," Honsinger said. "You can't just make it look like you are doing well, you actually have to do better. That will attract people."
Adjustments at WUSD
WUSD has made several adjustments since the poor ratings in 2014, including the hiring of Honsinger in 2015.
Honsinger said the staff sat down at that time and began discussing ways to improve the academics at the school.
"When I came here I saw good people here who were working hard, but not necessarily going the same direction," he said.
He discussed with staff the goals and direction of the school. One major change was the implementation of a standard curriculum.
"We had to have a good curriculum that everybody used, K-12," he said. "So, we bought into Beyond Textbooks (BT)."
Honsinger said the curriculum has given the district a common path where each grade builds upon the previous grade. He said each year the district implements more of the Beyond Textbooks curriculum.
"Every year we try to do more with it," he said. "Each year we have our BT non-negotiables — we talk about it and we have the goals on the wall. We list the previous years' goals and add to them."
Honsinger said the district posts their essential questions and learning objectives and then shows student engagement with those objectives.
He said this year the school is focusing on professional learning communities where teachers in specific subject areas across the district sit down in groups and talk about their data.
"We talk about where we are going in specific subject areas and we go up and down the grades," he said. "That is a lot of what we are doing this year."
Honsinger said another district focus over the past three years has been to try to engage the students at their level of learning.
"We pay attention to the kids that are exceeding and work with them and let them take off," he said. "For example, we have some fifth graders in sixth grade math. But we also pay attention to the kids that are behind. We have to take care of everyone."
Honsinger said one way the district reaches the students who have fallen behind is through professional development and differentiated instruction. The teachers are trained to teach each student at their level.
"You (teachers) have to basically be able to teach all the kids that are in your room," he said. "You have to become a juggler as a teacher."
Honsinger said the reteach and enrich classes, better use of the district's interventionist teachers and an effective English language learners program has also improved the academics at the schools.
"We've learned how to use our interventionists better," he said. "We decide weekly who should be getting help instead of just labeling students for the whole year."
Honsinger said the district is continuing to look at ways to offer more opportunities for students at the high school. He said the school now offers, and hopes to add more, several dual enrollment classes with Coconino Community College. The current classes — English 101, English 102, calculus, welding and law enforcement — provide high school and college credit to those students.
Looking ahead
Honsinger said the district is pleased to receive a higher grade this year and said the entire staff is to be praised for the turn-around. However, he said the grade is just one measure of the effectiveness of the teaching at the school.
"While we feel relieved and rewarded — I won't put all my beliefs, trust and efforts into the school grade," he said. "We will continue to value the good we do every day that isn't measured into the school grade."
Honsinger said the state grading of the schools is controversial and some schools who get a poor grade often dismiss it.
"But I think that's denial," he said. "I think there's a lot of good in these school grades and they do need to be paid attention to. I think that some schools are at an advantage and can get a better grade easier than others, but I think it's something we should strive for and I think it's something we should pay attention to and work towards."
Honsinger said the district has plans to continue improving the academics in each of the schools each year.
"We still have some improvements to make that will serve our kids and families," Honsinger said. "But I know we have a process here in Williams that works and can be adapted as needed. I don't think you just do everything for that grade, but if you focus on good things for your kids and community it will come out being rewarded in that grade."