Originally Published: October 10, 2017 9:10 a.m.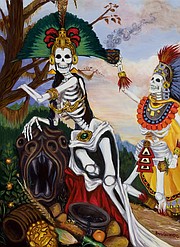 WILLIAMS, Ariz. — The Gallery in Williams is honoring Dia de los Muertos throughout October with special displays by regular artist members and a live painting demo at the Second Saturday Artwalk Oct. 14.
The holiday, which is regularly celebrated in Mexico Nov. 1 and 2, is similar to a family reunion — except dead ancestors are the guests of honor. Dia de los Muertos is a typically celebratory time where people remember the deceased and celebrate their memory.
The Gallery in Williams is hosting featured artist Emma Gardner throughout October. Gardner specializes in Dia de los Muertos style artwork. Photographer Amy Martin will also have special works featuring Dia de los Muertos subject matter.
Gardner will also have a live painting demo at the Second Saturday Artwalk Oct. 14 from 6 to 9 p.m. The Artwalk will also feature a Dia de los Muertos altar with traditional foods and tributes to loved ones who have passed.
About Dia de los Muertos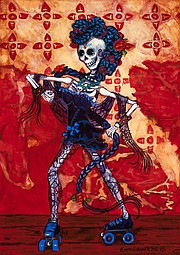 Dia de los Muertos combines the ancient Aztec custom of celebrating ancestors with All Souls' Day, a holiday that Spanish invaders brought to Mexico starting in the early 1500s.
Many people celebrating Dia de los Muertos will set up a candlelit altar in their homes so spirits can find their way back to their relatives. The altar also offers some of the favorite foods of those who have passed. The homes are decorated with candles, buckets of flowers, mounds of fruit, peanut bowls, plates of turkey mole and pan de muerto.
Often relatives will place items that were important to their ancestors when they were alive, such as a favorite book, musical instrument, toy or other item on the altar as well.
On Oct. 31, many believe that the gates of heaven open up and the spirits of the angelitos, or dead children, are released from heaven to come home to visit their parents.
On Nov. 2, the spirts of the adults come down to enjoy the festivities that are prepared for them.
On the afternoon of Nov. 2, festivities are brought to the cemeteries. People clean tombs, play cards, listen to music and reminisce about their lost family members.
Dia de los Muertos can be an expensive holiday for many rural families who often spend up to two months income to honor their dead relatives. They believe that happy spirits will provide protection, good luck and wisdom their families and keep them close.