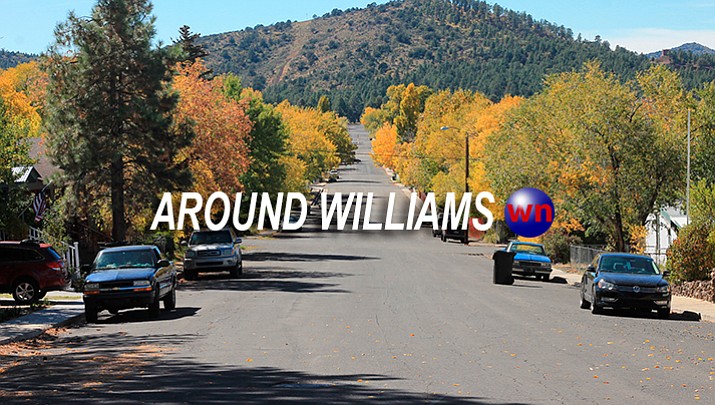 Originally Published: October 10, 2017 9:02 a.m.
Support your local booster clubs
Williams High School and Williams Elementary -Middle school booster clubs are asking for the public's support. Booster clubs support the schools extracurricular activities, athletic activities, teams, students and athletes. Member fees are: $25/per individual, $15/WUSD employee and $10/student
Everyone who joins gets a booster club T-shirt. More information is available from Williamsboosters@gmail.com
Williams Monthly Star Party Oct. 27
Members of the Coconino Astronomical Society, in conjunction with the city of Williams, will host a Star Party from 7:30 to 9:30 p.m., at Glassburn Park, in the natural area west of Rod's Steakhouse parking lot. Several large telescopes will be on hand to view the moon, planets and other celestial objects.
Williams Health Fair and Open House Oct. 21
North Country HealthCare in Williams will host its 25th annual Williams Health Fair & Open House, Oct. 21 from 8 a.m. to noon. The fair is open to all Williams' area residents. This fun community event will feature free healthcare services and information for people of all ages and includes free cholesterol, blood sugar and blood pressure screenings, mammograms by Assured Imaging, community programs and services, information about KidsCare, AHCCCS, SNAP and the Marketplace, free giveaways, raffle prizes and more. The event is free and open to the public. More information is available at (928) 635.4441. To schedule a mammogram, call 888-233-6121, option 1. The clinic is located at 301 S. 7th Street.
VFW Auxiliary selling fall center pieces
The Matthew James Broehm VFW Post 12128 Auxiliary is selling fall center pieces made with silk flowers in baskets, vases and etc., no two are alike. Look for flyers around town for locations and times of selling.
More information is available by calling (928) 606-9001 or (928) 225-0931.
VFW delivers scholarship applications
The Matthew James Broehm VFW Post 12128 and Auxiliary have distributed scholarship applications to all area schools. The Patriot's Pen is for sixth-eigth grades, the Voice of Democracy is for ninth-12th grades. The local level deadline is Oct. 31. These are national contests and are awarded on the district, state and national levels. All students are encouraged to participate. More information is available by calling (928) 225-0931 or (928) 225-0930.
Community Bingo in Williams
The Williams VFW post is having Bingo Oct. 12 and Oct. 26 at St. John's Episcopal Lutheran Church in Walker Hall, 202 W. Grant Ave., corner of Grant Avenue and Second Street. Doors open at 4:30 p.m. and games start at 5:30 p.m. Participants must be 18 years of age to enter, food and drinks will be available for sale.
Annual coat drive starts Oct. 1
The annual coat drive started Oct. 1. Anyone who has coats they no longer use can donate them to be used by someone in need. Ogden Cleaners cleans them for the Kiwanis Club and then are given out to those in need by the food pantry. Slightly used blankets also are accepted. Drop of items at the Rec Center and Williams Reality or more information is available by calling (928) 635-4393.
WEMS Book Fair coming Oct. 11-12
Williams Elementary_Middle School will host a Wild West themed book fair Oct. 11-12 from 3 pm – 6 p.m. at the WEMS library.
Historic photos of Williams businesses needed
The Williams Historic Photo Project is looking for old photos of local business buildings. They are interested in both exterior and interior views to add to their archives. Photos can either be donated, or scanned and returned. Anyone with photos to share can bring them to the Williams Public Library or call Andrea Dunn at (928) 635-2263.
Big Brothers/Big Sisters of Flagstaff needs volunteers
Big Brothers/Big Sisters of Flagstaff school based mentoring program at Williams needs volunteers and students in Williams.
Volunteers must be 16 years or older, be available to meet at WEMS two hours a week. Students must be enrolled in first through fifth grade and be able to meet two hours after school each week.
Both adults and students must have the desire to be a postive influence in the life of a child or be in need or desire a postive adult role model.
More information is available by calling (928) 774- 0649 or visiting www.flagstaffbigs.org.
Salvation Army Assistance
The Salvation Army provides rent and utility assistance to residents of Williams, Valle, Ash Fork and Seligman. Those needing housing assistance or utilities help can call for an appointment with Patricia Helgeson at (928) 221-3577.
More like this story