Originally Published: October 3, 2017 10:36 a.m.
WILLIAMS, Ariz. — Visitors enjoying Howly Owly Growly at Bearizona and the Pumpkin Train at the Grand Canyon Railway can now add another venue to their itinerary — Magic Bird Festival's ARTober Fest Oct. 13-15.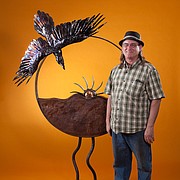 ARTober Fest has been a popular festival in Cave Creek, Fountain Hills and Gilbert over the past few years, and organizers Roberta Toombs-Rechlin and Lia Abati are now bringing the popular arts and entertainment show to northern Arizona.
The Williams ARTober Fest is still accepting applications for art exhibitors and food vendors with hopes of matching the nearly 100 participants of the other area festivals.
Set in Williams' famed historic district amidst a mountainous high pines backdrop, the ARTober Fest is designed for the whole family to enjoy. The outdoor show will usher in the autumn season in the heart of Arizona pine country from 10 a.m. - 5 p.m., Friday — Sunday. Admission is free.
The event will have artists from all over Arizona along with local Williams' artists.
"The artists from The Gallery will be represented," said Williams artist Kris Williams. "We will have a booth where all of the artists will be represented."
Williams said she has helped Magic Bird Festivals make connections in Williams for the event, but the event is independent from The Gallery.
"My understanding is they wanted to come to northern Arizona, so they investigated Flagstaff and Williams and chose Williams," she said.
Twisted Horn Forge metal sculptor Tom Williams will be ARTober Fest's featured artist. Part blacksmith, welder, and avid recycler, Williams designs are inspired by natural and organic forms.
Williams often shares his love of art with the community by hosting art workshops for Williams residents. He often demonstrates how to create metal artwork using forged iron by employing welding, blacksmithing, bending, twisting, and heating in his metal sculptures.
His sculptures are organic forms captured in metal. He makes petroglyphs, pinecones, ravens and roses. He has made bells made from discarded tanks and drums that produce musical notes. He has made saguaros from Grand Canyon mule shoes, and even shaped a planet — Mars.
In 2011 he entered the Flagstaff Recycled Art show and won the Elegance award. He took Best in Show in 2012. He and his wife, Kris, own The Gallery in Williams which opened in September 2011.
The festival will also include live music from the Mother Road Trio on Saturday and Sunday from 1 — 4 p.m. Featuring upright bass, guitar and harmonica, the national act is known for playing American originals and covers, plus a lively mix of blues country standards, old time jazz, motown, rock and swing.
Local musicians John Carpino and Kerry-Lynn Moede will also be performing at the event.
The ARToberfest food court will offer an array of gourmet eats and seasonal treats. Additional dining options and adult beverages will be available at nearby establishments including local beers at the Historic Brewing Company, Grand Canyon Brewing Company and other restaurants.
"We are excited to celebrate Arizona's rich Southwest history by expanding our shows to Williams on famed Route 66," Toombs-Rechlin said.
ARTober Fest will be located within walking distance of the Grand Canyon Railway station where people can purchase tickets for the Pumpkin Train that takes customers to the Railway's pumpkin picking patch.
Bearizona's Howly Owly Growly event is also ongoing in October and features the Howl-O-Ween Express, where visitors can ride an open-air bus through the park. The park also has a Growly Bear Cave with jack-o-lanterns in the walk-thru area and the Scareizona Haunted House.
People attending the festival can also visit the numerous downtown gift shops, restaurants and art galleries in Williams.
More information or to become an exhibitor is available at (480) 488-2014 or by visiting magicbirdfestivals.com.