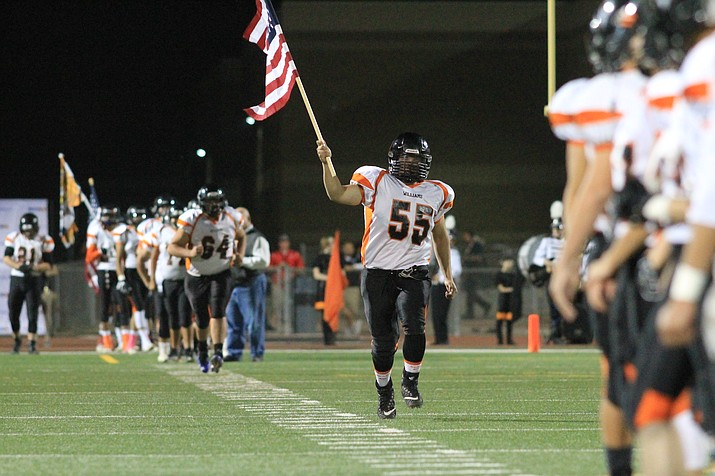 Photo by Wendy Howell.
Originally Published: November 28, 2017 4:40 p.m.
WILLIAMS, Ariz. — On Oct. 18 the Arizona Interscholastic Association (AIA) announced the conference placements for the two-year scheduling block starting in fall 2018, revealing that the Williams Vikings athletic teams will remain in the 1A Conference.
Williams will remain in the 1A along with 26 other schools. For football, Williams will remain in 8-man play for the 1A North Region which includes El Capitan, Fredonia, Joseph City, Mogollon, Rough Rock and Williams. Grey Hills, who previously was in the 1A North Region, was moved to 2A and Cibecue moved to the 1A East Region.
For basketball and volleyball, Williams will remain in the 1A Central Region along with Ash Fork/Seligman, Basis, Grand Canyon, Joseph City, Mayer and Mogollon.
For baseball and softball, Williams will also be in the 1A Central Region with Ash Fork/Seligman, Joseph City, Mayer and Mogollon.
Williams High School (WHS) Athletic Director Phillip Echeverria is the 1A Conference president. He attended the meeting and said only a handful of schools appealed to move up or down between conferences.

Echeverria said the fluctuation of enrollment at WHS, which has varied 210-240 over the past few years, keeps the Vikings on the high end of the 1A Conference and the low end of the 2A Conference. The Vikings were able to stay in the 1A Conference.
"I anticipate our enrollment being 225-228 next year at the 40-day enrollment," he said.
Echeverria said Williams Elementary-Middle School typically moves 45 students from the eighth grade to the high school each year, but the past few years the freshman class has been around 60-65.
"I want to say it's because of the improvement in our school system," Echeverria said. "For some reason we're picking up 15-20 kids more each year."
Although the school is on the high end for numbers in the 1A Conference, Echeverria feels it is the right place for the Vikings.
"Even though our [enrollment] numbers are a little bigger," Echeverria said. "Our turnout for athletics is pretty low. Of a class of 25 or so girls, we're only getting about five playing sports. The boys are a bit higher with five to eight."
Echeverria said he thinks it's important to remain steady in a conference and not switch back and forth.
"It's nice to create rivals with schools in the same conference and play those same schools," he said. "We've been lucky to do that a few years now."
Although there wasn't much movement between the 1A and 2A Conferences this year, Echeverria said they hoped to have more teams participate in football.
"Football across the board has just four or five dominant schools in any division [conference], which is sad." he said.
More like this story