Photo by Wendy Howell.
Originally Published: November 28, 2017 4:55 p.m.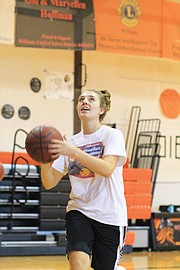 WILLIAMS, Ariz. — The Lady Vikes basketball team returned to the court earlier this month under the direction of new coach Phillip Echeverria, following the departure of coach Alyssa Dennison.
With just 12 girls playing last year, the Lady Vikes are heading into the 2017-2018 season with 19 players, enough for a full junior varsity and varsity team, Echeverria said.
A handful of the older Vikings players previously played for Echeverria when he coached the team a few years back. He said that helps with the leadership of the team.
"We're beginning with the fundamentals though right now — dribbling, passing, shooting and kind of breaking it down," Echeverria said.
Echeverria said his goal for the program is to maintain some consistency with the girls.
"I'd like to find somebody who wants to put some time in with the girls in the summer to make the program stronger," he said. "That puts us a little behind other programs, they are doing stuff in the summer and have some continuity with the coaches."
Echeverria said he is pleased with the turnout for the program this year. He said he has four to five girls from each class participating in the program.
"We don't have any real height, but we have some girls that can play well inside," he said. "I think our strength is our quickness and we hope to pressure some people."
Echeverria said he likes to have a "run and gun" type of offense, moving the ball quickly up and down the court.
He said he also wants to work on reducing turnovers during the games.
"In girls basketball there's a lot of turnovers, which are unnecessary," he said. "We need to not force things, keep our head up and look beforehand."
The Lady Vikes had their opening game with Cibecue Nov. 28. They return to Williams to participate in the Route 66 Holiday Basketball Classic Nov 30 — Dec. 2. Their first game is with Chino Valley Nov. 30 at 9 a.m. at the Williams High School gym.
More like this story