Originally Published: November 14, 2017 11:23 a.m.
WILLIAMS, Ariz. — By 1950, WWII had been over for five years and the United States and countries around the world were still rebuilding — the last thing they wanted was to fight another war.
But when communist North Korea sent 75,000 soldiers south on June 25, 1950, invading South Korea, the United States responded by sending in troops.
By 1951, the Korean War was dubbed the 'forgotten war' by U.S. News & World Report. However, the war in Korea was not so much forgotten as it was out of sight and out of mind for many Americans.
Charles Richard Allen from Burbank, California, served as a gunner in Fox Company in the U.S. Marine Corps during the Korean War. For 17 months, Allen was part of a six man crew. He was responsible for carrying the tripod for the water cooled heavy machine gun and then using the gun on the enemy.
"My job was carrying a 53 pound tripod to put that water-cooled gun on," Allen said. "I was the gunner — I had an assistant gunner and I had six other men with me, in my group, that carried the ammunition and so forth."
The Korean War was fought from June 1950 to July 1953 and was waged on land, sea and in the air over the Korean Peninsula.
During WWII, Korea was controlled by Japan. After the war, Korea was divided by Allied troops at the 38th Parallel — the United States occupied the south and the Russia controlled the north. The country gained its independence in 1948 and the communist leader Kim Il-sung took power in the north, while the south remained democratic, according to history.com.
When North Korea invaded, South Korea resisted and was backed by the United Nations, with the United States providing a large number of fighting troops. The fighting took place up and down the Korean Peninsula until the front was established just north of the 38th Parallel.
While the Korean War was relatively short, it was exceptionally bloody. Nearly five million people died. More than half of these about 10 percent of Korea's prewar population — were civilians. (This rate of civilian casualties was higher than World War II and Vietnam), according to history.net.
Around 40,000 Americans died in action in Korea and more than 100,000 were wounded.
When the war first broke out, people worried that American involvement would usher in the same type of rationing and full mobilization that had characterized WWII. That failed to occur and within a few months, most Americans turned back to their own lives, ignoring the conflict raging half a world away. Newspapers continued to report on the war, but with the entrance of the Chinese in late fall 1950 and the resulting stalemate in late 1951, few Americans wanted to read or think about Korea, according to history.net.
"In Korea, the guys did not go over there to win the war, it was a police action," said Allen's wife Beverly. "It was bad. People think Vietnam was bad but Korea, is the 'forgotten war.'"
Early in the war, President Harry S. Truman described the conflict as a police action since it was an undeclared military action, conducted with support by the United Nations.
During his time in Korea, Allen fought up and down the Korean Peninsula —from Seoul, South Korea to the North Korean border. He also fought at the Chosin Reservoir, a two-week battle fought in brutally cold temperatures in the mountains of North Korea.
"We drove the North Korean armies that were fighting us out and we ended up at the border and the Chinese got with the North Koreans and that's when they forced us out," Allen said. "They figured there were at least 800,000 Chinese that came (south)."
With U.S. troops close to the North Korean/Chinese border, Chinese leader Mao Zedong sent troops to North Korea and warned the United States to keep away.
Allen said he did not think about whether he was fighting North Koreans or Chinese — at that time they were both the enemy.

"I didn't think about it either way. It's just someone that was fighting us. We did what we had to do to get out of the way," he said. "The Chinese, after we left down (south), they left and the only ones left were the Koreans."
Allen said he remembers Korea being cold and said the troops had little to no interaction with civilians.
"It was freezing in the winter time and there was snow. The Marine Corps would give us winter gear and then in the summer time we went back to our dungarees," he said. "We didn't do anything with the people. We were with Fox Company or nowhere — that was it. We didn't have anything to do with the people who lived there."
He said his entire time in country was spent fighting. He said there was no time to think about who they were fighting or even about being scared. His primary concern was making it through alive.
"You don't get scared. You get "pissed off" and that's what we did," he said. "All we were concerned about was staying alive."
There were times, Allen said, when all he had to eat was rice from the fields. Beverly said to this day Allen will not eat rice.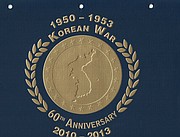 "It's been 65 years since he's had rice — he will not eat rice," she said.
Before leaving for Korea, right after graduating from boot camp at the Marine Corps Recruit Depot in San Diego, California, Allen had met Beverly. She was 15 at the time. During the war they wrote to each other.
Today, Beverly has every letter Allen sent her. Allen, however, was forced to use the paper for other things, after he finished reading them.
"I asked him one day, 'what did you do with all my letters?'" Beverly said. "He said, 'well, we didn't have any toilet paper …' I was crushed, because at that time I was 16. So from then on I wrote letters to him on toilet paper."
While fighting, Allen was wounded twice —he received two purple hearts and was awarded a Meritorious Promotion by President Truman promoting him from corporal to sergeant after surviving for five days on the front line after his company was wiped out.
After 17 months, Allen headed home. He boarded a troop ship bound first for Japan and then the U.S. He docked in San Francisco and met up with several friends to celebrate his homecoming.
"Two or three of the buddies I had been with over there (Korea) lived in 'Frisco so they came down and picked me up at the boat. I called (Beverly) and asked if she wanted to come up to 'Frisco. Her dad said no but her mom said, 'you promise to be good?' I said, 'of course.'"
The couple flew to Burbank and were married 28 days later — Beverly was 17. She finished high school after they were married. They have three children.
Allen was stationed that year in Camp Pendleton in San Diego, California and was discharged from the Marine Corps in September 1953. Allen later worked as a general contractor in Phoenix and Lake Havasu. He and Beverly retired to Williams in 1999. They have been married for 65 years.
About one-fourth of Korean War veterans also served in World War II and many went on to serve in the Vietnam War. The most famous representation of the war in popular culture is the television series "M*ASH," which was set in a field hospital in South Korea. The series ran from 1972 until 1983, and its final episode was the most-watched in television history, according to history.com.
More like this story