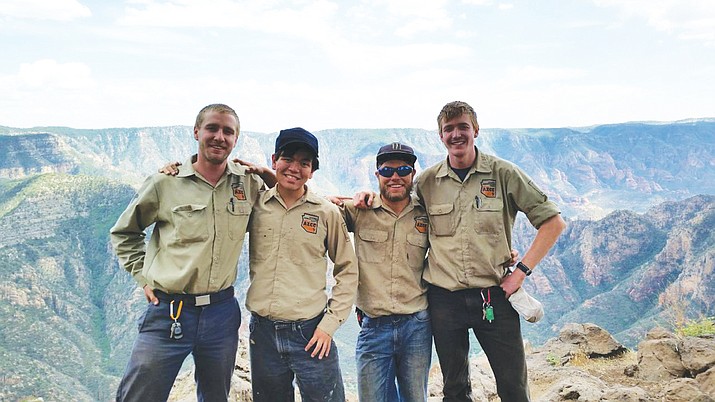 Originally Published: May 16, 2017 10:50 a.m.
WILLIAMS, Ariz. — High school students can help the environment while gaining some valuable work experience this summer through the Youth Conservation Corps (YCC).
Arizona Conservation Corps is coordinating the seven-week program and is looking for Williams area students to apply. Corps members will work with different resource groups from the Kaibab National Forest, including range, wildlife, archaeology, recreation and fire.
The program runs from June 5 to July 22. Corps members work Monday through Friday from 7 a.m. to 5:30 p.m. It starts with a weeklong camp out with other YCC groups across northern Arizona, where corps members will learn first aid skills, CPR, and leave no trace outdoor ethics.
The type of work the corps members do throughout the program varies from year to year. In the past, the crew has done trail work, put up barbed wire fencing, cleared fence line for antelope migration, cleared debris from historic railroad sections, cleaned graffiti from petroglyphs at Keyhole Sink and planted trees in a burn area.
Typically workers meet at the ranger station each day with their group. They then head out to a work site for a variety of conservation projects that include fencing, trail work, archaeology or fuels reduction throughout the Williams Ranger District of Kaibab National Forest.
The YCC began in the 1960s. The idea stems from the Civilian Conservation Corps, one of President Franklin D. Roosevelt's New Deal programs in the 1930s that put young men to work across the country planting trees, maintaining roads and fighting fires.
Although 15 and 16-year-olds are eligible to apply for the program, preference is given to 17 and 18-year-olds. The YCC program is a paid volunteer program, and corps members receive a stipend of $300 per week. In addition, some workers are eligible to receive a $1,200 education award upon completing the program.
Students who complete the program will gain teamwork skills and job skills.
The YCC experience allows youth to meet different employees who work in the outdoors. They gain work skills, earn money and have fun during the summer.
More information is available at www.azcorps.org or (928) 526-3280, ext. 6.