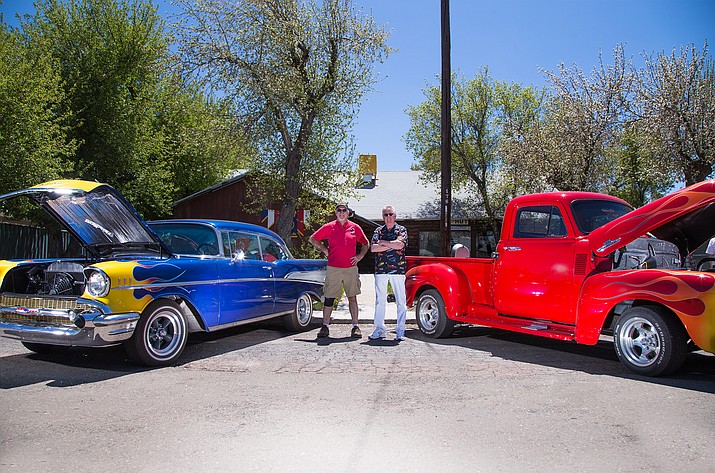 Photo by Ryan Williams.
Originally Published: May 16, 2017 11:24 a.m.
WILLIAMS, Ariz. — Spring flowers, fresh air and sunshine are signals that summer is just around the corner and Williams residents are ready to kick off the season with a wide assortment of activities and events.
Historic Route 66 Car Show
On May 19-20, classic car enthusiasts won't want to miss the 2nd annual Historical Route 66 Car Show in downtown Williams.
John Holst, a member of the car show committee, said mid-May is the perfect time of year for a car show.
"The whole reason the car show is happening now is to get it going before Memorial Day. To kind of get the juices flowing for the businesses in town — and we wanted to try and not do something on a busy, three day weekend," Holst said.
The car show is sponsored by American Legion Cordova Post 13.
The show will feature two separate judging events, one on Friday evening after a 'Cruise the Loop' and a second on Saturday for the actual car show.

Registration for Friday's Cruise the Loop is free, participants can pick up an event registration at any local sponsor for a chance to win a Best Cruiser trophy.
The car show on Saturday will feature competition judging in several categories. Early registration is $30. Same day registration will be available at the Coke trailer, located at the Circle K gas station, for an additional fee. Trophies and awards will be presented at 3 p.m. at Cruiser's Café.
More information or to register for the car show is available at www.historicalroute66carshow.com.
Community Kite Festival
Kites of all shapes and sizes will take to the skies May 20 as part of the Williams Community Kite Festival.
The eighth annual event, sponsored by the Williams Community Groups, will take place from 11 a.m. to 2 p.m. at Cureton Park. Organizer Rob Krombeen said the event is free and will include free food and live music.
"We just want to build community," Krombeen said. "We look at it as an opportunity meet and connect with people who we don't often see coming together."
About 400 people attended the community spring celebration last year, despite high winds. The group gave out approximately 200 kites to local children.
"Last year the wind was excessive, but it didn't deter our plans," Krombeen said. "The Grand Canyon Railway's tent blew down, but its coming back repaired and better than ever."
He said the event will be moved to the recreation center if the weather is poor.
The first 200 kids at the event will receive a free kite. Besides the kite flying, participants can enjoy a bounce house with a slide, face painting, temporary tattoos, free crafts, food, games and other activities.
Krombeen said the group is hoping to include a contest for the most creative, largest or other categories in the future.
"We've seen some nice ones," he said.
Krombeen said the Williams Community Group is donating food, Pepsi is donating beverages and businesses such as Bearizona have donated prizes for the games.
"It's a great opportunity to come out and enjoy the spring and meet new people," he said.
Kiwanis Arts and Craft Show
The Kiwanis Club of Williams is hosting its annual Art and Craft Show at the Williams Rodeo Barn May 19-21. The show will feature arts and crafts from a wide variety of local artists. Artisans will display and sell their wares.
"People will be able to view and purchase handcrafted articles," said Roger Ely, president of the Kiwanis Club of Williams. "There will be a lot of art work, specialty art, metal wares, wood crafts … basically there will be the typical mercantile types of wares."
Ely said more than 40 vendors have reserved space at the show. Food will be available for purchase along with a dessert and coffee bar. Rides to and from the Rodeo Barn, 800 E. Rodeo Rd, will be available.
Proceeds from the event help support Williams youth through programs of the Kiwanis club. More information is available from Judy Meada at (928) 607-7095.
Run for the Wall
The 17th annual Run for the Wall motorcycle ride to the Vietnam Memorial in Washington, D.C. will roll through Williams May 17.
The block in front of American Legion Post No. 13 will be filled with close to 400 bikes, riders and veterans. Legion members will provide riders a free meal from donations. The meal will include hundreds of pounds of meat, cooked in a deep pit barbeque, with all the trimmings. Riders arrive in Williams at 6:45 p.m. and will cruise the Route 66 loop through town, escorted by the Williams Police Department.
On May 18 Williams Mayor John Moore will host the group for breakfast at Wild West Junction and the Kiwanis Club of Williams will help serve. Riders will assemble and ride out of town in force at 8 a.m.
The Run for the Wall began in 1989 when two Vietnam veterans, James Gregory and Bill Evans, rode their bikes across the country talking to local radio stations, newspaper and television stations about the thousands of men and women still unaccounted for from U.S. wars.
The event is locally sponsored by American Legion Post No. 13, American Legion Auxiliary members, Run for the Wall and the Sons of the American Legion.