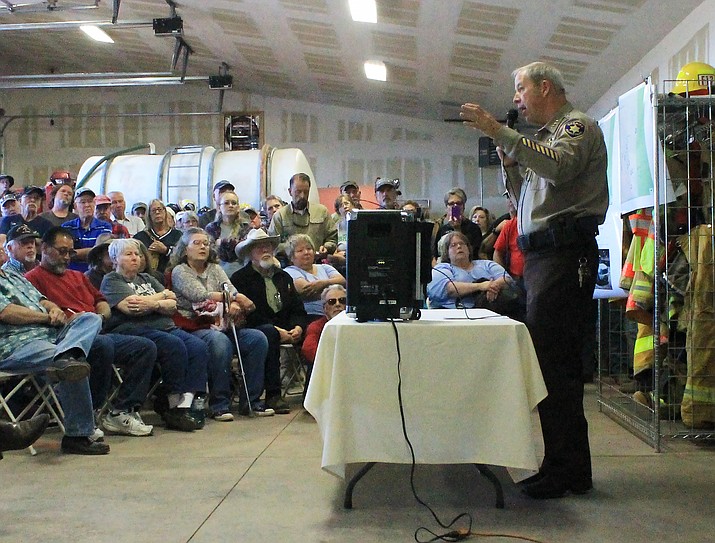 Photo by Wendy Howell.
Originally Published: May 16, 2017 12:49 p.m.
To the editor:
It is hard for me to fathom if Sheriff (Jim) Driscoll is really in touch with the Williams community. His explanation in the paper and the community meeting of why information on the outstanding vehicle was not released is just nonsense.
I retired three years ago as a police lieutenant in the valley with over thirty years of police service. I have worked homicides, critical incidents, run SWAT teams, as well as being a direct aid to our police chief handling community and political issues.
I fully understand in some investigations some information has to be withheld to safeguard the investigation. I fully understand that it takes time to secure and process the scene to prevent contamination. Not issuing their Red Alert system or using media on the outstanding victim vehicle in a timely manner is just not one of them.
Sheriff Driscoll stated he did not want to "panic the community" and did not want a bunch of armed vigilantes. Well I have news for the sheriff! He panicked the community for lack of information released on the outstanding vehicle. He also has to know that this is Arizona, a gun toting state where everyone carries a gun.

What really dumbfounds me was the Sheriff's comments of "we are their eyes and ears." Yes, the citizens are, but you have to get them the information first!
Community policing is a buzz word that can be traced back to Sir Robert Peel. Community policing is just doing the right thing and doing things right. Visibility and accountability. Developing good strategies in addressing community concerns. Openness and trust is what brings communities together with law enforcement.
However, in community policing there are a few things you never do. Never mislead or underestimate citizens. Always provide timely and accurate information. Own up when mistakes are made.
Sheriff Driscoll, please do not get me wrong. You have a fine department and I support you as well I am sure most of the community. We hope this is a learning experience for all.
Richard Scrivens
Williams resident