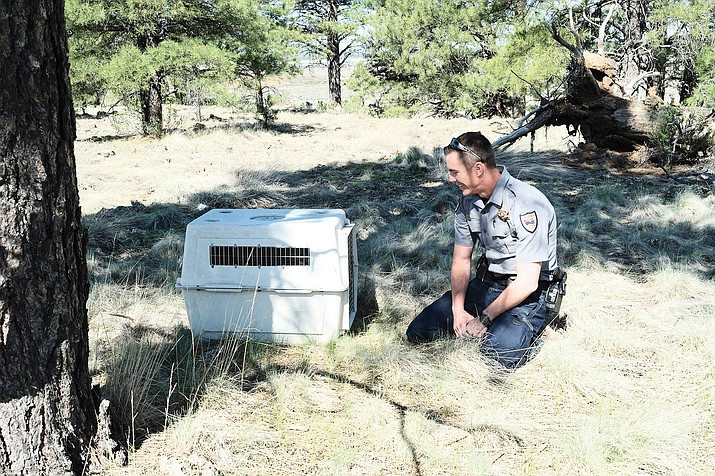 Photo by Loretta Yerian.

Originally Published: May 16, 2017 11:38 a.m.
WILLIAMS, Ariz. — After a mechanic at the Pilot Truck Stop in Bellemont noticed a badger wasn't able to move its right leg, an Arizona Game and Fish officer was called in to rescue the wounded animal.
Photo Gallery
Arizona Game And Fish Release Badger
"One of the car shop guys called me and said (the badger) was in the parking lot under his vehicle. I headed over there and he said a roadrunner had come over to (the badger) and was harassing him and said it scared him out from under the car. He was around 100 yards from the parking lot when I got there," said William Lemon, the game warden for Unit 8, which covers areas between Camp Navajo and Sycamore Canyon to the Verde River, Paulden and along Highway 89 to Ash Fork and I-40.
Lemon got within several yards of the badger before the animal realized he was being approached.

"When I saw him he was moving and I think he had just started digging a hole when I got there but I felt like he had head trauma due to his lack of perception that I was there and he couldn't move his right leg," Lemon said. "I was easily able to put the catch pole over his head, which most normal badgers would be very aggressive and should have been trying to run away or attack me. I just picked him up and put him in my kennel."
Badger facts
Badgers have keen vision, scent and hearing
Badgers have lived to be 26 years old in captivity
American badgers are solitary; European badgers are sociable
Badgers are good at digging burrows
Badgers help to control rodent populations
*Information courtesy of naturemappingfoundation.org.
American Badgers are known to be aggressive animals.
"Most people don't encounter badgers, they're nocturnal. So I didn't know how he was going to react. Fortunately he just turned around when he realized I was there and got in his hole," Lemon said.

Badgers are important consumers of many small prey animals in their ecosystem. When Lemon captured the badger, he had a small animal in his mouth.
Lemon contacted Bearizona and Adobe Mountain Wildlife Center to see if they would take the badger, but was referred to Southwest Wildlife Conservation Center (SWCC) in Scottsdale, which said it would help rehabilitate the badger.
"We (AZGF) are not in the rehab business," Lemon said. "We manage populations, not individuals."
SWCC took x-rays of the badger and found a fracture in its right femur, multiple fractures in its ankle bones and fractures in its pelvic bones.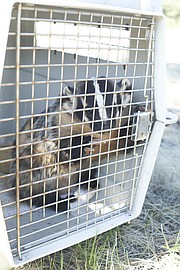 James O'Brien, a vet tech with SWCC, said it was likely the badger was hit by a vehicle.
"Those injuries probably happened several days before Will found him," O'Brien said. "Ultimately we didn't have to do any surgery, everything healed up surprisingly quickly and well."
O'Brien said during his time at SWCC the badgerwas monitored to make sure he was healing properly and watched to make sure he was not developing sores on his feet from the way his bones healed that could have affected his gait.
SWCC had the badger in its care for about two and a half months.
"During that time they gave him a safe place to be and food and water," Lemon said.