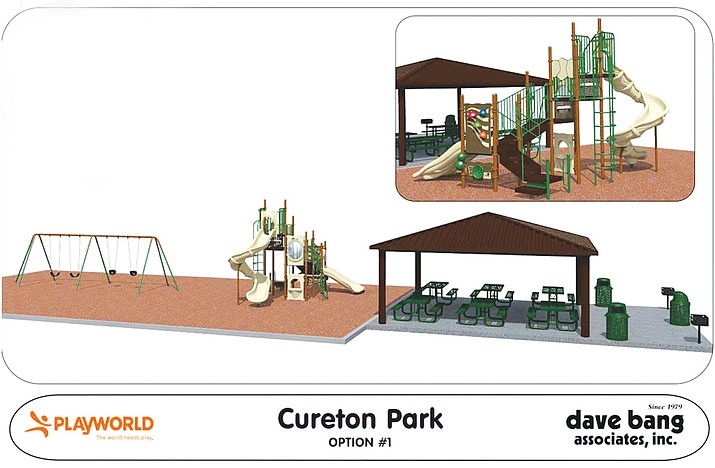 Originally Published: May 16, 2017 10:56 a.m.
WILLIAMS, Ariz. — At the May 11 Williams City Council meeting council members approved the purchase and installation of a new playground structure, four swings, a 24-by-24 foot Ramada, six picnic tables, two barbecues, three trash cans and wood chip safety surfacing at Cureton Park.
The equipment will replace the current structure and facilities that are estimated to be 25 to 30 years old.
According to Rose Newbold, the city of Williams recreation director, the existing playground was constructed prior to current safety standards and has resulted in safety issues with the structure. A safety audit was completed in 2015 and identified several issues. Newbold also reported the picnic tables and barbecues were falling into disrepair.
Total cost of the project is $98,454 which is funded by revenues from the Bed, Board and Booze tax. Construction will begin July 1.
"Hopefully we will be without a playground for only about a month," said City Manager Skylor Miller.
The new picnic area and playground will comply with the Americans with Disabilities Act (ADA) and other safety requirements upon completion.
The playground replacement project follows other projects completed at Cureton Park this year. In 2016, a t-ball field was completed that included grass, base paths and a backstop. ADA compliant parking spaces were delineated, signed and striped near the concessions stand.
The concession area will also receive a new bulletin board, tables and a water fountain soon.
Over the winter, the Little League baseball tower door was vandalized and city staff repaired the building and replaced the interior door. Staff brought new electrical service to the softball tower, which included new lighting and electrical outlets, and installed a new rollup door to the building.
Future projects at the ballfields include concrete curbing around the softball field to control erosion and loss of sand from the field. Bleacher repair and painting of facilities is ongoing.
Other parks and recreation projects
The city upgraded and renovated facilities at several city parks and recreation buildings in fiscal year 2017. According to Miller, city staff is working on completing projects at the swimming pool, rodeo grounds and other park areas.
The swimming pool recently had repairs done on the mechanical room to comply with OSHA requirements. City staff repaired rusted and deteriorated interior patio fence rails this year and hopes to hardscape the south patio wall soon. The city is also considering adding a climbing wall to promote youth usage at the facility.
City staff has worked on several issues at the rodeo grounds. Electrical issues have been resolved and new lighting has been installed at the horse barn. Panels on the interior are also being replaced. New garage doors are being considered at the facility.
The rodeo arena stalls have been mucked and the facility will receive 150 tons of new arena material soon. The rodeo barn and concessions received electrical improvements this spring and new panels and services were installed at the facilities. A new hard surface was installed next to the rodeo barn and ADA compliant concrete walkways are being installed. The rodeo barn will receive new paneling and repairs for the ceiling are underway.
The vault toilet at Buckskinner Park was renovated this year, which included a chemical scouring, new solar exhaust fans, roof repairs, vault emptying and interior and exterior cleaning and painting.
"I think the original proposal was $30,000 for total replacement," Miller said.
Miller said instead of outsourcing the project, Elephant Rocks Golf Course employees and other city staff were able to rehabilitate the toilet for substantially less money.
"We spent $5,000 and it looks brand new," he said. "I was blown away, it looks great and it was professionally done. I'm very happy when we can come up with inhouse solutions and save money like that."
The city also plans to install ADA compliant ramps, improve the shelter and install new grills at the park. The city is considering adding a small playground structure and fencing in the future.
The city recreation center received a new floor this year and plans are to complete interior and exterior painting, add new signage, install a storage shed and purchase new tables and chairs.
A new rail car bridge was installed at Glassburn Park in 2016 with electric, concrete and rail work completed in late 2016. The city plans to landscape the area and add benches and a shade structure. The city is also considering adding a dog park east of the bridge.