Photo by Wendy Howell.
Williams baseball and softball dominated the Mayer Wildcats last week bringing home four wins for the Vikings.
The Lady Vikes played a double-header March 21, beating the Wildcats 13-1 and 24-12 before heading to the Chandler Prep tournament March 23-25.
Vikings baseball also faced the Wildcats March 21 bringing home a 17-10 win. They then travelled to Mayer March 25 and schooled the Wildcats once again with a 21-8 win.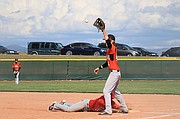 Zack Perkins dominated in both games with an inside-the-park homerun and a triple in game one and an over-the-fence three-run homer and a double in game two.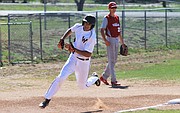 Despite the Vikings getting the bases loaded in the first inning, the Wildcats were the first on the scoreboard, in game one March 21. However Perkins big hit brought in three runs followed by four more from the rest of the Vikings to take the lead, 7-1, at the top of the second.
Several Vikings errors allowed the Wildcats to run up the score, however the Vikings maintained their lead at 9-6 in the bottom of the fourth.

The Vikings only allowed two runs in the fifth and brought home eight more in the fifth and sixth. Catcher Alex Howell caught a man leading off third to put an exciting finish to the game with the Vikes winning 17-10.
Zack Perkins went 3 for 5, had five RBIs and took two stolen bases. Mario Vasquez went 1 for 3 with one double. Quinn Howell, Daniel Lopez and Cisco Ortiz went 1 for 2 with Ortiz bringing in one RBI.
Joe Zabala pitched five innings allowing only seven hits and three earned runs while striking out four
Game two allowed the Vikings to head to warmer climes when they faced the Wildcats in Mayer.
The Vikings got on the scoreboard quickly when Zack Perkins brought in three runs in the first inning with his out-of-the-park home-run over the left field fence.
The Vikings then held the Wildcats scoreless in the second and third innings as the Vikings brought in five. The Wildcats had a short resurgence in the fifth inning, but an 11-run sixth inning by the Vikings closed out the game with Vikings winning 21-8.
Perkins went 4 for 5 with a double, a home-run, eight RBIs and three stolen bases. Payce Mortensen went 2 for 3 with three RBIs and three stolen bases. Lopez went 3 for 4 with three RBIs and two stolen bases. Frankie Kramer went 2 for 4 including a double, two RBIs and one stolen base.
Perkins took the mound for five innings,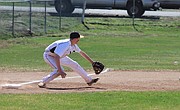 giving up seven hits and two earned runs but taking six strikeouts.
The Vikings travel to Mogollon March 28 for a doubleheader and then return to Williams March 31 to face Bagdad.
The Lady Vikes will face the Lady Sultans March 31 at home.