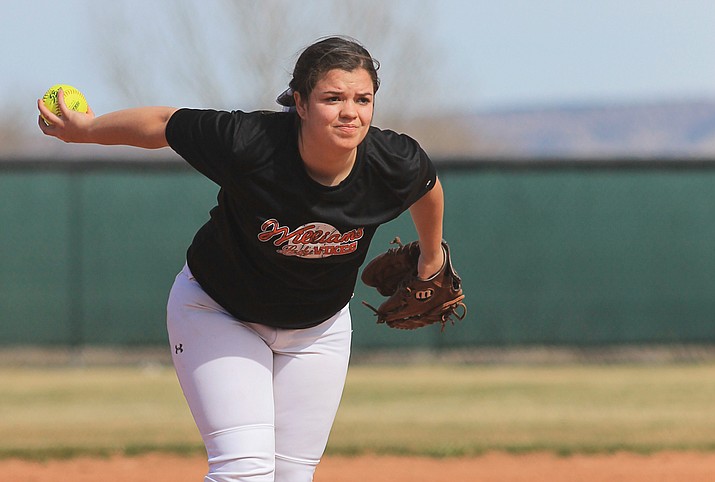 Photo by Wendy Howell.
Originally Published: March 8, 2017 9:01 a.m.
Snow covered diamonds and winter weather have limited the on-field playing time for the Williams baseball and softball teams, which may have led to a double-loss last weekend for the Vikings.
Williams Vikings baseball and softball took to the road to face the 3A Chino Valley Cougars in a nonconference game March 3.
The Lady Vikes led for most of their game with the Chino Valley softball team but failed to hang on to a lead and fell to the Cougars 8-7.
The Vikings boys were kept quiet behind the pitching of Cougar Skylar Brooks who brought 18 strikeouts and allowed only two hits in the 6-inning game that brought a 6-2 victory over the Vikes.
Three days after Chino Valley's baseball team was supposed to have opened the 2017 season, Cougars right-handed ace pitcher Brooks made up for it with a dominating all-around performance.
Brooks struck out the top of the Vikings line up in the first inning and kept the Vikings silent in the second, only allowing a base hit for Zack Perkins and a walk for Carston Brinkworth before the final two Vikings batters struck out.
The Cougars had two games scheduled to begin the campaign this week. But Tuesday's home contest against Sedona Red Rock was rained out and cancelled.
Williams had some field time Feb. 25 when they faced the Kingman Bulldogs in an 11-5 loss.
During the game with Chino Valley, Williams plated its first run in the fourth inning on an error and its final run on a wild pitch with two outs in the seventh.
"We just haven't seen live pitching — kids going out of their zones trying to hit the ball," said second-year Vikings coach John Hatcher in the Daily Courier. "Their kid [Brooks] did well working the ball up in the strike zone, and we kept going after it. We couldn't catch up to it."
The Cougars claimed a 3-0 lead in the third inning on Brooks' two-run double off the left-field fence. Loftin followed two batters later by lining an RBI single against Vikings pitcher Frankie Kramer.
Chino didn't double its lead to 6-1 until the sixth when Brooks homered off of reliever Joe Zabala that brought in Cougars Tyler Hixon.
Up next
After playing Seligman in the 1A Region opener, Williams boys (0-2) will head to River Valley and the girls will head to Needles for a three
day tournament March 9 – 11.