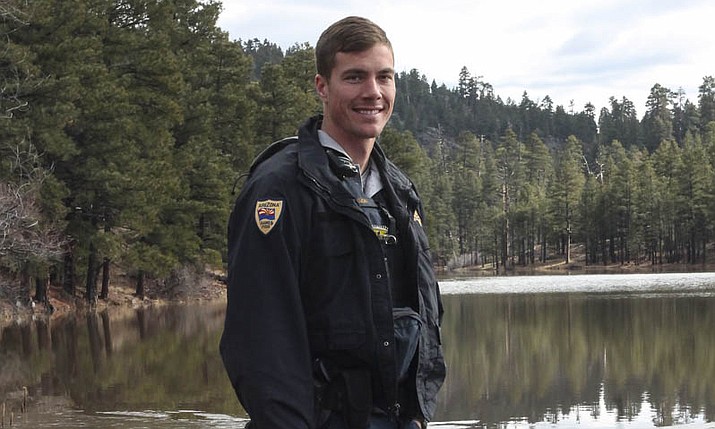 Originally Published: March 7, 2017 10:30 a.m.
WILLIAMS, Ariz. — Would you put your life on the line to save a wild animal?
Arizona's game wardens are asked to make this call as they resolve interactions and conflicts between wildlife and humans.
As game wardens carry out their job duties, they may encounter everything from illegal hunters, drug smugglers and gunrunners to legitimate appreciators of the outdoors — and they must be able to correctly distinguish who is who, according to Arizona Game and Fish Department (AZGF).
Officially known as wildlife managers and employed by AZGF, they are responsible for the enforcement of wildlife laws and protection of the public, working in places where most people vacation.
William Lemon is the game warden for Unit 8, which covers areas between Camp Navajo and Sycamore Canyon to the Verde River and Paulden and along Highway 89 to Ash Fork and I-40.
According to Lemon, there are some fantastic things about his job along with day to day challenges.
"Dealing with people is typically the biggest challenge, whether that's property issues and trespassing or dealing with people trying to hunt on their land illegally," he said. "Trying to work with both sides of an issue and make sure people feel safe and their pets and property don't get damaged by wildlife. Knowing that you have to put your life on the line to save wildlife … something that is not human. You put your life on the line by making contact with these people."
Arizona's game wardens serve six national forests, 30 state parks, and nine national wildlife refuges.
According to game and fish, one of the most important requirements a game warden can possess is a strong education. The department requires all applicants to have a bachelor's degree in Wildlife Science or a closely related wildlife management field.
"I was mainly a seasonal field biologist for two years before I got this job," Lemon said.
Lemon has worked in Unit 8 since October 2015. Before taking that position he worked in Unit 9 from May 2014 to October 2015 and was unofficially assigned to Unit 12B while working as a Wildlife Manager at Lee's Ferry and Lake Powell.
Game wardens must be U.S. citizens and 21-years-old or older. All applicants undergo a background check, interview, medical and drug tests, psychological evaluation and physical fitness test, which includes one minute each of sit-ups and push-ups and a one and half mile run.
For Lemon, who grew up liking the outdoors and had a strong education along with an interest and experience in wildlife management, getting a job as a game warden was not a problem.
From Spartanburg, South Carolina, Lemon joined the Boy Scouts and took an interest in wildlife during a vacation in Key West after an encounter with a giant Eagle Ray during a snorkeling trip.
He went to the College of Charleston South Carolina and earned a bachelor degree in terrestrial biology.
After working in several captive animal settings, he got his first field job with the Student Conservation Association tracking prairie dog habitats with the AZGF.
He went on to intern with game and fish in Kingman before working as a biologists on a Snow Crabbing ship for The Deadliest Catch TV show.
After a short time working in South Carolina, Lemon applied and received an interview for a game warden position in Arizona.
Lemon said there are differences between game wardens in Arizona and other states, which is one reason he wanted to work Arizona.
"Most other states your duties are 90-100 percent law enforcement or very close. Here in Arizona, it is 50-50. Fifty percent is biological and 50 percent is law enforcement," he said. "So that was the draw for me. I still wanted the biological side of the job and AZGF, unlike many states, hire game wardens regularly and they hire multiple game wardens."
After making it through the hiring process, new hires go through 43 weeks of training. Set up in four phases, the training is designed to prepare game wardens for whatever they may encounter in the field.
Training starts with a one week introductory training at the Game and Fish Department's headquarters in Phoenix, followed by 585-hours at the police academy.
Once the police academy is completed, candidates go through another four and a half months of training with game and fish, including 10 weeks of shadowing working game wardens, after which the department's board hands down a final decision on whether or not to approve the hire.
Once approved, recruits can then request a districts, they want to work in.
Duties vary depending on districts, but include working on habitat improvement, conducting game surveys, making hunt recommendations, assisting with wildlife and fisheries surveys and management and conducting public outreach.
As a law officer, Arizona Game Wardens can also respond to any state law or city ordinance being violated. Normal law enforcement duties include conducting wildlife law enforcement patrols and investigations, making arrests, serving warrants, preparing case reports and testifying in court.
"A lot of people don't know what we are. There are a lot of new hunters or people coming up out of Phoenix and they don't realize what we can do," Lemon said. "We can and do pull people over for traffic violations."
While duties are similar to other officers, game wardens approach law enforcement situations differently because of their constant interactions with armed members of the public.
"We are used to seeing firearms," Lemon said. "We expect them to have a long gun, rifle or shotgun and a handgun on them somewhere. When (police) see a firearm they handle it much differently than we do. If we proned everybody out who had a firearm there would be a lot of muddy and mad people who just got mud all up in their gun barrel of their rifle."
Lemon said it is very rare for him to have to coach people on gun etiquette.
"Especially if they see a game warden, they're not going to even accidentally point their gun at them," he said.
Lemon said most of his daily contact with hunters and people using the forest are positive ones.
"People want to see the game warden," he said. "We know where the deer and elk are. We know where the animals are that they're hunting or with fishing we know what the fish are biting on. A lot of times when I contact someone they invite me into their camp and if I want to have some coffee."
During hunting season Lemon spends much of his time visiting camps and checking people's licenses and tags.
"It's important when you start to build connections so people know who to call and when they do call to be there to help the wildlife," he said.
When checking fishing licenses in all local bodies of water, Lemon said there is typically a 90 to 95 percent compliance rate.
"I may check two hundred people and I'll have one or two people who don't have a license. It makes me feel like I'm not doing my job but it also shows that we have been doing our job because people know to get a fishing license," he said.
Even with the challenges of dealing with illegal hunters and settling human-wildlife conflicts, Lemon said there are many more positive than negative aspects to his job.
"I get to have a positive interface with the public and help them enjoy and respect wildlife," he said. "It's nice being someone that the public seeks out for information. Game wardens are the face of the department, that's who people come to for information. We're the people out in the field."