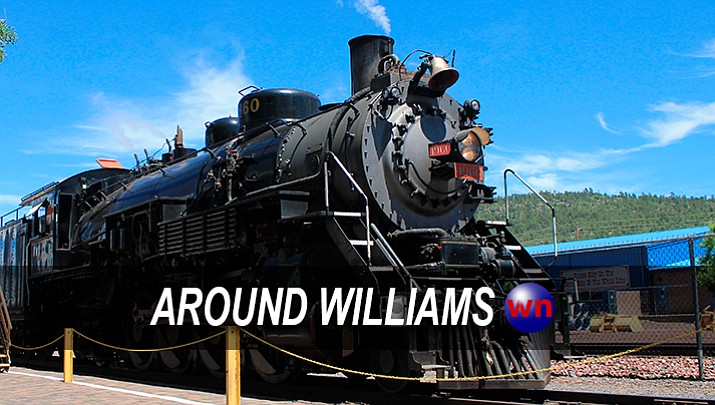 Originally Published: March 7, 2017 11:09 a.m.
Middle School drama 'Grease' coming Mar. 8
Williams Elementary-Middle School drama students are performing the play "Grease" March 8 at 6:30 p.m., with music, dancing, and of course, acting. It is based on the 1970's film with John Travolta and Olivia Newton-John. The public is invited to attend.
Ash Fork Museum hosts Archaeology Month Mar. 25
The Ash Fork Historical museum will host a session on the history of Ash Fork March 25 at 1 p.m. More information is available by calling (928)637-0204. The museum is located at 901 Old Rte 66 in Ash Fork.
Junior shooting program
John Ivens Post 42 is starting a Junior Shooting Sports Air Rifle program for ages 9 through 19. The groups first meeting is March 11 at 1 p.m. at Cordova Post 13, 425 West Grant Ave., Williams.
More information is available from Scott Miller at (928) 853-9768.
Williams celebrates Youth Art Month in March
March is National Youth Art Month. Student art is on display all March at The Gallery in Williams, and much of it will be available for sale, with 100 percent of the proceeds going to the student artists. Guests are invited for a free reception to celebrate and honor Williams' young artists March 11 from 5 to 7 p.m. Refreshments provided.
Junior League Golf registration
PGA Junior League Golf returns to Elephant Rocks Golf Course. More info is available by contacting Scott Little at (928) 635-4935.
Registration open for Little League baseball and softball
Williams Little League is now accepting registrations. Mayers division registration closes March 10. T-ball and Minors registraiton closes March 18. Juniors registration closes March 25. Registration is $50 per player before Feb. 28, $60 after that date. There is a $5 sibling discount. Registration in online at williamslittleleague.com. More information is available at williamslittleleague@gmail.com.
Vendors wanted for Coconino County Fair
Coconino County Parks and Rec is currently accepting vendor applications for the 2017 Coconino County Fair, Sept. 1 – 4 at Fort Tuthill County Park. Vendors may submit applications for amusement, food, commercial businesses and non-profits. First review of applications takes place in March.
Vendor applications are available on the Coconino County Parks and Rec. website at Coconino.az.gov/CountyFair.
Feral cat neuter and return volunteers needed
Trap Neuter Return (TNR) is here to neuter and return feral cats to their colonies. TNR has recently been notified that we have grant money for all feral cats in Williams. TNR is in need of volunteers to set traps and get them to the clinics in Flagstaff. More information for anyone willing to help is available from Robynn Eckel at (928) 635-4726.

Kiwanis Club seeking vendors
The Kiwanis Club's Gateway to the Grand Canyon Arts and Craft Fair is seeking vendors for the fourth annual event. This event is a major fundraising effort by the Kiwanis in order to sponsor activities for the youth of Williams. All money raised is used to support activities for local youth. More information is available from Judith at (928) 635-9028 or Harry at (928) 635-1441.
March for Meals Country Breakfast March 18
The March for Means Country Breakfast fundraiser will be held from 9-11 a.m. March 18 at the Williams Senior Center. All donations collected will benefit the Williams Senior Center nutrition program.
Wildland-Urban Interface and Firewise Summit March 29-30
The second annual Arizona Wildland-Urban Interface and Firewise Summit will take place March 29-30 at the Doubletree by Hilton in Flagstaff. There is no registration cost. The two day summit will help equip homeowners, firefighters and wildland firefighters with information to reduce loss and increase safety in their communities. More information is available at dffm.az.gov/newsroom/currentevents.
CodeRED alerts
CodeRED is a free emergency notification service provided to all residents within Williams and Coconino County. Recipients are notified of emergencies and general notifications through phone calls, texts messages, emails and social media. More information and to enroll is available at www.williamsaz.gov under CodeRED.
VFW bingo at St. John's Church
The Williams VFW will host bingo night the second and fourth Thursday of every month at St. John's Episcopal-Lutheran Church, 202 W Grant. Doors open at 4:30 p.m. and games start at 5:30 p.m. Participants must be 18 years of age to enter. Food and drinks will be available. More information is available at (928) 225-0930.
SAVE-MTR teams up with Amazon Smile to help animals in need
Amazon Smile is a simple and automatic way for people to support their favorite charitable organization every time they shop, at no cost to the person. Amazon will donate a portion of the purchase price to SAVE-MTR if you go to Amazon Smile and follow directions on how to create the account. When asked to choose your charity type, type in SAVE-MTR and you will automatically be directed to the site.
Quilt group meets second and fourth Thursday every month
The quilt group meets second and fourth Thursday of every month at 6:30 p.m. at the LDS church on East Rodeo Road. More information is available from Angela Price at (928) 635-8923.
Williams Food Bank needs volunteers
Williams Food Bank needs volunteers to help sort food and move boxes. The organization especially needs people who can lift heavy boxes. Those interested are encouraged to come by the Food Bank at 2900 S. Ninth St. at 10 a.m. any day or contact Guy Mikkelsen at (928) 635-2913.
Salvation Army Assistance
The Salvation Army provides rent and utility assistance to residents of Williams, Valle, Ash Fork and Seligman. Those needing housing assistance or utilities help can call for an appointment with Patricia Helgeson at (928) 221-3577.
High School and Adult Basketball open gym
The Williams Rec Center and Williams School District are hosting an adult open gym from 6 p.m. to 8 p.m at Williams Elementary Middle School. More infor at (928) 635-6784.
Quit Smoking
Coconino County Health Department has a support group to help those who want to stop smoking. The group meets one hour each week for six weeks. Discounts and and free supplies are available for attendees. A special group for 18-24 year-olds also meets. More information can be found at (928) 679-7266.
Pregnant women and new parent support
North Country Healthcare is offering a Health Start Program for pregnant women and new mothers. A community helath worker works with families to provide development education and information about AHCCCS, WIC and other services. The worker provides emotional/physical support for a new mother. More information can be found at 1(800)508-0292.
Coconino County Master Gardener Program
The Master Gardener Program is being offered for those interested in learning more about the specific gardening and horticulture needs in their geographic areas. The 15 session Coconino County Master Gardener Program emphasizes the needs and challenges of high elevation gardening. The program involves both classroom learning and a hands-on volunteer commitment. For an application, call (928) 774-1868 x110 or e-mail bgobble@email.arizona.edu.
Child care providers needed
The Children in My Home program recruits, trains and offers financial assistance for individuals to start a child care business in their home and complete state certification. The program is supported by the United Way and Association for Supportive child Care. More information can be found at (928)714-1716.
Last call for submissions to Lions Club community calendar
The Williams Lions Club is preparing to send the 2017-2018 Community Birthday Calendar to the printer. If you have any additions, corrections, or deletions to the 50th issue of this Williams tradition, contact any Lions Club member or calendar chair Denis Kirkley at 928-814-2166. New customers are also welcome to have their family's birthdays and anniversaries listed. Calendars will be sold for $10 each and will be available in June.
Open Gym Thursdays 8th grade and under
Williams School District and the City of Williams are hosting open gym nights for kids up through eighth grade every Thursday from 6 p.m. to 8 p.m. at Williams Elementary Middle School. Basketball, volleyball, dodgeball, jumprope and hoola hoop are available.
More like this story