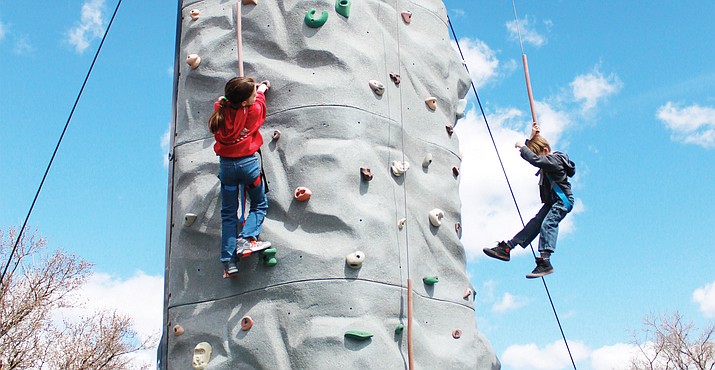 Originally Published: June 20, 2017 10:55 a.m.
WILLIAMS, Ariz. — Rockin' the Wall on Rt. 66 is one of the newest, fun-filled additions of things to do in the Williams area.
Families, tourists and locals alike enjoy climbing 24 feet before safely rappelling back to the ground. The wall offers a hands-on, interactive experience for people of all ages.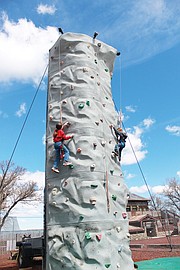 Paul Nagy, owner of Rockin' the Wall on Rt. 66, opened the wall for climbing during Memorial Day weekend. The wall was first erected in April.
This is the first climbing wall Nagy has operated.
Nagy said figuring out the right time to open each day was a little tricky.
"It's clear to me now that I need to be open when the train gets back from the Canyon," he said. "They've been to Bearizona, they've ziplined and the rock wall and fat tire bikes were the top two things they mentioned. So that's why I have a rock wall. You need to tend to the children who are coming here, there is not enough for them to do."
Nagy said he climbs the wall everyday to make sure all equipment is working and ready to go.
"Three times a day I'm hanging off it to help sell the wall. Once the kids see you rappel down the wall. That's the reason you climb, so we can jump off and repel off," he said
The wall is for all skill levels, from beginners to experienced climbers — the climbing wall is a must visit while in Williams.
All necessary gear and basic instruction are provided to visitors. The wall is open to all ages with no height or age restrictions. Rockin' the Wall on Rt. 66 limits climbing to patrons weighing between 40 and 250 pounds.
Rockin' the Wall on Rt. 66 is located at 341 East Route 66 in Williams and is open seven days a week from 1 to 9 p.m. More information is available at (973) 901-8145.