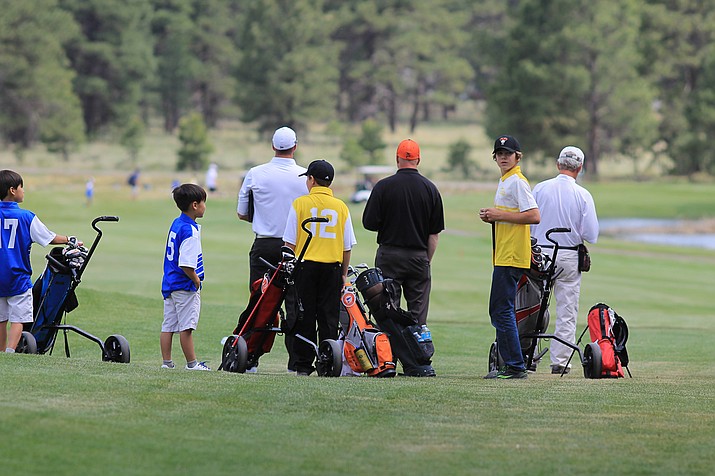 Photo by Wendy Howell.
Originally Published: June 13, 2017 12:22 p.m.
WILLIAMS, Ariz. — The Elephant Rocks Junior Golf team faced its first competition of the season June 7 when they faced a team from Flagstaff.
Photo Gallery
Junior League Golf Series
The nationwide program featured a record-setting 36,000 participants across 2,900 teams nationwide last year, led by the more than 2,000 PGA and LPGA professionals who served as captains. The growth represents a 300 percent increase from the 9,000 kids who participated on 740 teams nationwide just three years prior.
Elephant Rocks golf pro Scott Little is heading up the program again for the third year at the golf course.
Little said the program has grown and he now has 16 players. The young golfers in Williams are part of the northern Arizona leagues which consist of teams from Pine Canyon, Forest Highlands and Continental golf courses in Flagstaff.
"If success is that your team almost doubled in size from last year, then we are having a great year," Little said. "We're still mostly beginners and trying to push to that next level."
The team began practices in May and plan to have four matches and possibly some scrimmages throughout the summer.
The matches are made up of boys and girls, age 13 and younger, who are put into teams of two. The program uses a two-person scramble format for competition, which reinforces the team concept and creates a nurturing environment for learning the game. Teams play four, nine-hole matches in a game; captains can substitute players every three holes, allowing everyone on the team a chance to participate. Teams typically play between four-to-six games in the regular season, which runs from April 1- July 31.
"Our competition are the one public course in Flagstaff and the three private clubs," he said. "I'm sure there may be a little more exposure for some of those kiddos with lifetime family golfers, but its changing here for us too."
Little said one of the missions of the PGA is to grow the game. He said for him it starts with Junior Golf.
"In our community, we have an amazing golf course," he said. "It's world class for a municipal facility. And the fact that we are exposing that to more and more children is a really good thing. For me, part of it is the PGA mission to grow the game and part is that I have a passion for golf, especially with little ones."
Little feels that a big part of the draw is the enjoyment the children have with each other and with the game.
"Some of them are nervous, but at worst they spend two hours on a beautiful golf course beautiful weather hitting a little white ball," he said. "I think some feel a lot of pressure though. Everyone wants to do well."
Little said the program runs like a team event, which is a new thing for golf.
"Golf traditionally has been an individual sport," he said. With this program, they took a lot of the good qualities of team sports and drew it into golf to make a nationwide program that is similar to Little League baseball. The team event is exciting. They have uniforms, their teammates, and they aren't out there on an island."
PGA and LPGA professionals run the Junior Golf program, providing kids with expert coaching and instruction. With parents and family members encouraged to assist as coaches and volunteers, PGA Junior League Golf involves the entire family and introduces them to an all-ages sport they can play and enjoy together for a lifetime.
"It's tremendous to see PGA and LPGA professionals utilize PGA Junior League Golf in their work leading the charge to grow golf among our youth," said PGA President Paul Levy. "The developmental nature of the program is very welcoming. Captains are not only teaching the game but also the important character skills and values inherent in golf that kids will carry through life."
More like this story