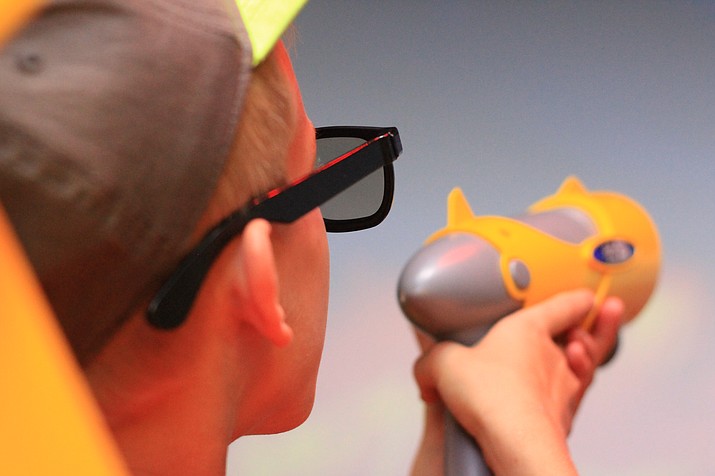 Photo by Wendy Howell.
Originally Published: June 6, 2017 11:25 a.m.
WILLIAMS, Ariz. — Starting with 3D visual effects, then adding in wind machines, strobe lights, rapid motion seats and a personal blaster — Mountain Man Bill's Gunslingin' Adventure is bringing a multisensory family fun 7D cinema to Williams.
The business brings the newest 7D technology to Williams with a virtual reality cinema and also offers a laser maze.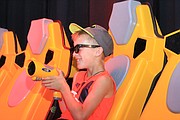 The 7D interactive cinema is a different type of movie watching experience. Instead of sitting back observing, the 7D effects bring the adventure to life. Participants sit in an eight-seat theatre where they shoot laser guns at targets on the screen along the way. Each person competes against family and friends for the highest score and bragging rights.
Logan Checketts of Route 66 Zipline owns Mountain Man Bill's. He said from his travels with the zipline industry, he discovered 7D cinema.
"I see the latest and greatest attractions and when I saw this, I thought that it would be a hit for Williams," he said.
Checketts began putting plans together for the business in the fall of 2016 and when a location came open on Route 66, he jumped at the opportunity.
"There are a lot of people walking and visiting the shops downtown and I thought this would bring another level of entertainment to the area," he said.
Mountain Man Bill's currently offers two movies to choose from: Los Banditos and Zombies.
As the short movie begins, the simulator platform moves accordingly to what is happening on the screen as one of two movies begin. Participants are seat-belted and given 3D glasses and a laser-type gun. As the movie begins, seven different special effects kick in to make the movie experience realistic and exhilarating. The short movie ride takes around eight minutes and is quite intense. The state-of-the-art simulator creates such a drop that movie goers will get that exciting lower-belly rollercoaster feeling.
"Los Banditos is great for families young and old," Checketts said.
Checketts said Zombies is very popular too, especially with teens.
"It is better for older kids, but there are so many people that love zombies," he said. "It's a popular one."
For now the business will offer the two movies, but they will be seeking customer feedback for the possibility of other movies.
More information can be found calling (928) 286-3400 or visiting www.mountainmanbills.com.
Mountain Man Bill's Gunslingin' Adventure located at 226 W. Route 66, is open Sunday-Saturday from 10 a.m. — to close. Ticket prices vary; package deals between the 7D cinema, laser maze and the Route 66 Zipline are available.
More like this story