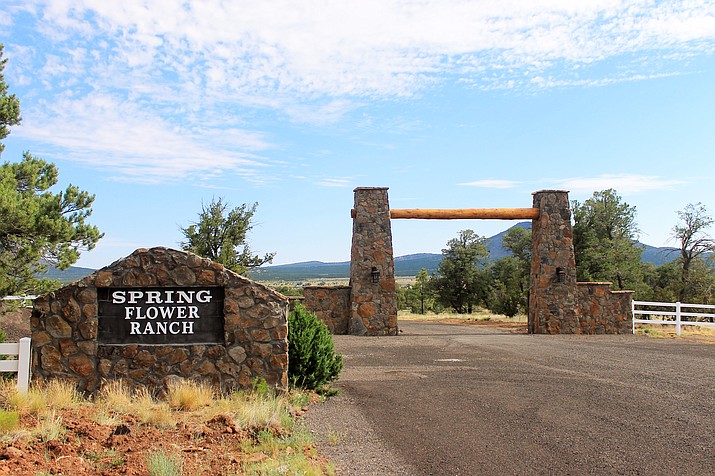 Photo by Wendy Howell.
Originally Published: July 18, 2017 11 a.m.
With rising housing prices and a low inventory of homes, it shouldn't be surprising that parcels of land in the Williams area are beginning to sell.
Spring Flower Ranch, a new 64-parcel development in the Red Lake area, north of Williams, recently sold 70 percent of its lots within the first 45 days of listing.
"Williams is very attractive to people," said Tres Brooks, owner of the Brooks Company and developer of Spring Flower Ranch.
The development is located between Spring Valley and Hoctor Roads, five miles north of Williams.
Nestled among pinon juniper trees with views of Kendrick and Sitgreaves Mountains, the property was purchased by the Brooks Company in a recent short sale.
The land was subdivided into 64 parcels ranging in size from 2.5 acres to 39. Prices range from $39,900 up to $119,900 for the lots.
"People seem to be looking for somewhere cooler to get away," Brooks said. "They like the affordability."
The Brooks Company is providing financing for those interested in a lot. They will finance with 10 percent down for up to 15 years.
"You don't find that too often," Brooks said. "We found there's a big demand for it. The Flagstaff areas have just gotten so expensive that it's a nice alternative for a lot of folks. It's a unique development for the area because there's nothing really like it."
The subdivision was recently paved with recycled asphalt with electric and phone to each parcel. The community will have electronic gates and mailboxes at each entrance.
"About half of the people interested are looking for second homes," Brooks said. "They like the idea of a gate where they can lock and leave it here."
Brooks said the subdivision will have Covenants, Conditions, and Restrictions (CC&Rs) to protect the property owner's investment.
"They aren't overly cumbersome, but yet help protect their property values," Brooks said. "People won't be able to junk up their property or put a single wide trailer on it."
Brooks said there has been a lot of interested from people wanting to purchase a lot and come up in the summer with an RV.
"But that's not how we really set this up," he said. "We're trying to make it not crazily upper-end, but nice. We want it to have a community feel where everybody feels like their neighbors are building pretty much what they are."
The CC&Rs allow for site built homes only, with a minimum size of 1,200 square feet with a garage. Owners will pay annual dues to maintain the gates, roads, mailboxes and other community infrastructure.
Although the company looked into drilling a well, Brooks said it was cost prohibitive and decided water cisterns were the best option.
"We thought we'd have people hung up with that (water hauling)," he said. "But they actually think it's a kind of a good thing. Most of our projects the people have to drill a well, and that can be $20,000 — $40,000. You can put a water cistern in and have water delivered for years and years and years before you'll spend that money here."
Brooks said another draw to the area was the proximity to Williams.
"People like that the town of Williams is only 10 minutes away and they can get pretty much what they need there. They can have their country lifestyle with city convenience."
Brooks became aware of the property when he was approached by a broker in Scottsdale.
"It's a little smaller than we normally do, but we saw it and saw the potential," he said. "We just know how many people are looking — whether it's local or from the valley or to Las Vegas or California — they are looking for country lifestyle with city convenience."
Although Brooks lives in Arizona and has a summer home in Flagstaff, he said many of the Brooks Company developments are in Wyoming.
"We've got a large desert project off of I-40 between Kingman and Lake Havasu," he said. "We have done a lot of ranch property west of Phoenix and several in Wyoming. Cheyenne, Casper, Laramie —Wyoming is a great state, people like the wild west and the tax benefits there."