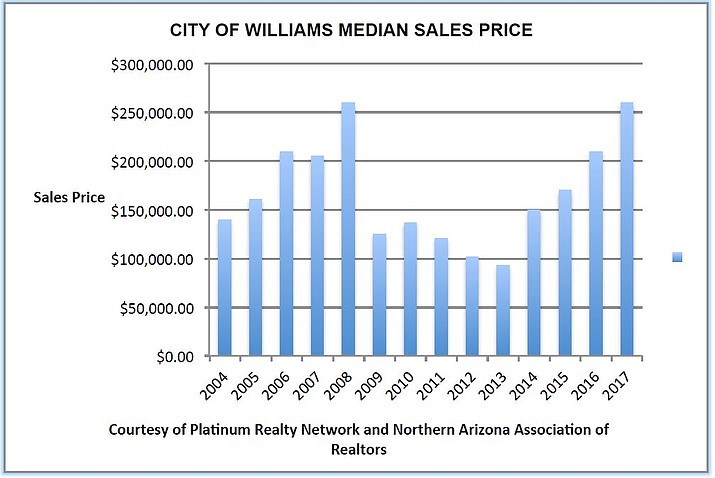 Originally Published: July 11, 2017 10:27 a.m.
Looking at data on the housing market in Williams is like looking at a topographic map of the Grand Canyon. Over a 10 year period, prices have gone from the top of the Bright Angel Trail to Phantom Ranch and back.
In 2008, home values in Williams peaked with a median home sale price of $260,000, but in 2011 median home prices plummeted to just $90,000.
According to data from the Northern Arizona Association of Realtors, housing prices in Williams have finally rebounded to prerecession levels, with recent data showing median home sales back at $260,000.
"The city proper has really come back," said Pete Baldwin, broker and owner of Platinum Realty of Williams.
The housing bubble
Although real estate prices never reached the peak that nearby Flagstaff approached, Williams was affected by the recent recession like the rest of the United States.
Following the stock market crash in 2000, the nation began shifting money from the stock market into housing. New lending types such as interest adjustable loans, interest only loans and zero down loans allowed more people to borrow money. As housing prices increased, people fought to get in on the action. The housing market peaked in most of the United States in 2006 and some loans started to go into default. The credit markets froze in the summer of 2007 and the real estate market began to deteriorate rapidly.
Although the financial crisis was over by 2009, the housing market continued to decline for several more years. According to data from RealtyTrac, there were over 3 million foreclosure filings in 2009, a 120 percent increase over 2007. Unemployment rose to 10 percent.
Although the recession technically began in 2008, home sale prices remained high for several more years in Williams because of appraisals based on previous years' sales. As sales slowed and home prices dropped, the market finally hit bottom in 2013.
"There were a lot of foreclosures, a lot of short sales, a lot of distressed properties," said Banker's Real Estate owner and broker Allan Duncan.
Many realtors felt the pinch and left the area. However, Duncan, who had been a realtor since 2001, took it as an opportunity to purchase Banker's and stay in the race.
"I almost went broke in 2011," he said.
Despite declining home values, Baldwin and Duncan stayed loyal to the Williams area.
"I have an office in Scottsdale too," Baldwin said. "But I love the outdoors, the mountains — to hunt and fish. I come up here every week. I love to come up here."
Despite a low inventory of homes in the Williams area, Duncan said he has seen a large increase in sales this year.
"My personal production is twice as much year to date, comparing this year to last year as of July 1, 2017 to July 1, 2016," he said. "Our supply is very low for three bedroom, two bath modest homes, so our prices are going up."
Duncan said sales of land have also increased in the area. He said that during the recession it was more affordable to buy an existing home than to purchase property and build.
"The houses are going up so much (prices) that people can now buy a lot and build on it cheaper," he said.
Although the data is showing a rebound in home prices in Williams proper, Duncan estimates that home prices for the entire Williams area, including homes in Highland Meadows, Perkinsville Road, Garland Prairie and areas north are only around 80 percent of where they were in 2008.
"I don't think we're there yet," Duncan said. "For example, a house that would have sold for $290,000 in February of 2007 would probably go for $225,000, $230,000."
Baldwin said many of his clients are from the Phoenix area because of his connections in Scottsdale. He said a lot those clients are looking for a second home or land.
Duncan said many of his clients are from the Colorado River valley communities such as Bullhead City and Lake Havasu, but he also works with people from Phoenix and California.
Duncan and Baldwin said their clients are looking for a variety of things in Williams' real estate. Some are looking for summer homes or retirement homes in the mountains. Others are looking for an affordable home that allows them to work in Williams or commute to Flagstaff.
"They're looking for something affordable for their dollar," Duncan said.
Baldwin said quality homes in the appropriate price range sell quickly in Williams. However, he said many of the homes in Williams were built in the 1950s and 1960s, a time when small economical homes were important for the area, and they have remodeling and construction needs.
"They aren't in good condition," he said. "A lot of them have deferred maintenance, the foundations are made out of wood and you literally have to elevate the house, lay concrete and set it back down," he said.
Spruce it up
Duncan said most of his clients are interested in two or three bedroom, two bath homes with a garage in good condition. He said a basic 2,000 square foot home in the city limits with those features ranges from $225,000 to $250,000.
"We're probably having a 60-day turnaround if it's priced appropriately to what others have sold for," he said. "People who put their prices very high are not going to move for a while. They can only sell for what others have sold for unless it's a cash sale, although appraisers are adjusting for higher amounts."
Baldwin said he recommends that any homeowner looking to sell should begin with a home evaluation. He said it is important to get an appraisal by a licensed appraiser and the opinion of two or three real estate agents.
"That brings reality to the game," he said.