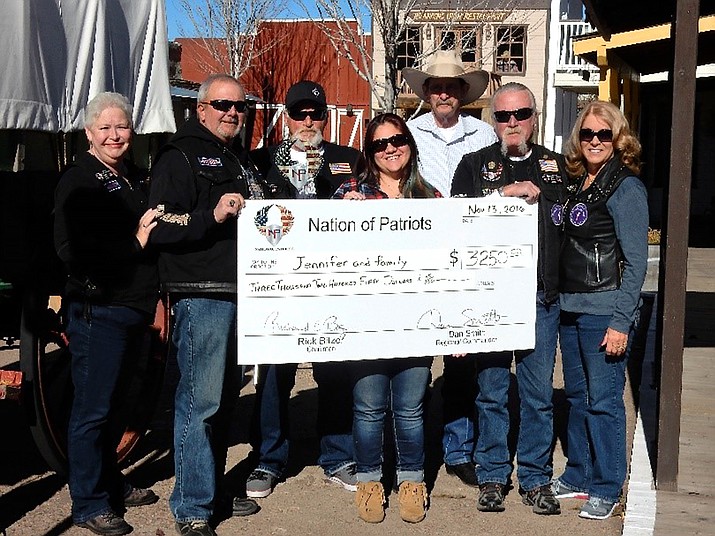 Originally Published: January 31, 2017 1:52 p.m.
The Patriot Tour rolled through Williams in July 2016 on a mission to raise money for wounded veterans and their families.
The Patriot Tour, sponsored by The Nation of Patriots, is "One flag travelling 48 states in 100 days," with the sole purpose of raising money to help wounded vets and their families with expenses that are not or cannot be covered by government programs.
The Arizona portion of this all-volunteer effort raised $11,000 from this event, thanks to the generosity of patriotic donors across Arizona, and the Nation of Patriots National Committee added another $2,000 dollars to our effort. The NOP is a non-profit, 100 percent volunteer group, with all money raised going to veterans in our state. The $13,000 went to five area veterans, representing Flagstaff, Williams, Prescott Valley, the Hopi Tribe, and the Navajo Nation.
Our thanks to Superior Propane, LP's Excavating, Twisters, The Route 66 Place, Goldies, Pine Country Restaurant, Canyon Motel and RV Park, Kiwanis Club, Rotary Club, and all the many other patriotic businesses, organizations, and individuals who helped make this year a well-deserved thank you to the men and women who have served so that we can have the freedoms we have today.
In 2017, the Patriot Tour will be escorting the flag across Arizona July 13-15. The flag will enter Arizona from the west and be carried into Williams July 13. Mayor John Moore has pledged city support for celebrations and events.
Dan Smith, regional commander, and Rick Bitzer, NOP Arizona state chairman, both feel it is gratifying to know where money goes when you donate, and in this case —100 percent of the money raised in Arizona stays in Arizona.
More information on events and activities is available on NOP's website: www.arizonanationofpatriots.com.
Dan Smith
Regional Commander of NOP