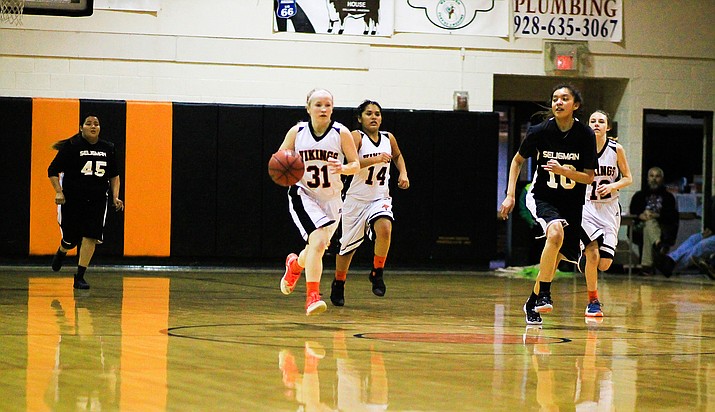 Photo by Wendy Howell.
Originally Published: January 31, 2017 1:43 p.m.
WILLIAMS, Ariz. - The Lady Vikes are coming alive in the final few games of the season as they dominated the Seligman Antelopes and Northland Prep last week.
The Lady Vikes got on the scoreboard quickly in both games and never looked back. The girls beat the Antelopes 67-7 and the Spartans 39-9.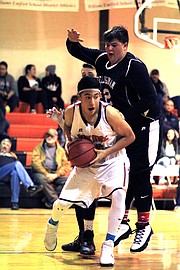 The Vikings boys beat 1A Seligman 67-50 in an evenly matched game at home Jan. 26. The Vikings were sluggish in the first few minutes of the game as Antelope players Trevell Walker and Anthony Siyuja took control and brought an early lead of 9-0. The Vikings finally woke up with a Zack Perkins jumper to put the Vikes on the scoreboard with 3:30 left in the first quarter.
Shooting by Juaquin Gutierrez and Perkins matched Seligman through the rest of the half with the Vikings entering the locker room leading 33-31.
The second half of the game was fueled with excitement as the Antelopes and Vikings kept the score within a few points until Walker went out of the game with an ankle injury with 6:50 left in the fourth quarter.
The lost hurt the Antelopes who continued to battle the Vikings, but they couldn't overcome the loss of Walker and the Vikings ran up the lead. The Vikings dominated the fourth quarter and left the game with the win.
Payce Mortensen led the Vikings with 25 points, including three 3-point shots. Mortensen had a 39 percent shooting percentage. He went 8-for-11 on free throws, pulling in 73 percent of his shots.
Gutierrez followed with 15 points, including two 3-point shots. He pulled down a 63 percent shooting percentage for field goals, and 50 percent on free throws. He led the team with 11 rebounds.
Perkins racked up 13 points with a 60 percent shooting percentage. Perkins led the team with five steals and pulled down six rebounds.
The Vikings struggled against the 2A Northland Prep team Jan. 28. The Spartans overpowered the Vikings and led throughout the game. The Vikings lost three starting players to fouls during the battle, with players coming off the bench to finish the game. The Vikings lost 57-41.
The Vikings next face Mogollon Feb. 2 on the road.