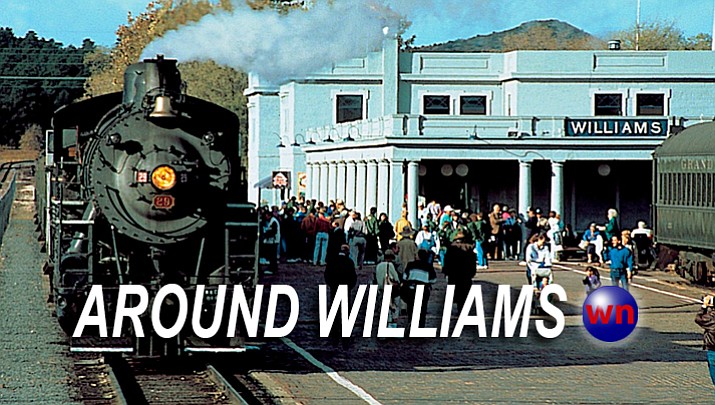 Originally Published: January 31, 2017 1:46 p.m.
Junior League Golf registration begins Feb. 1
PGA Junior League Golf returns to Elephant Rocks Golf Course. Registration begins Feb. 1. More info is available by contacting Scott Little at (928) 635-4935.
Super Bowl party Feb. 5
American Legion Riders and Legion Auxiliary are hosting a Super Bowl party Feb. 5 at 4:30 p.m. at the American Legion Post 13, 425 W. Grant Avenue. The party is for current and prospetive members and will feature a pot luck with donations accepted. The bar will also be open.
Bingo Feb. 9
The Williams VFW post is having bingo on the second and fourth Thursday of every month at St. John's Episcopal-Lutheran Church, 202 W Grant. Doors open at 4:30 p.m. and games start at 5:30pm. The first bingo session starts Feb. 9. Participants must be 18 years of age to enter. Food and drinks will be available for sale. Please bring your friends and come have a fun filled evening.
Third Annual Event Huddle Feb. 6
The third annual Event Huddle is Feb. 6 at 425 W. Grant Ave. Community organizations are invited to come together for an information exchange and event planning session for 2017. This is an opportunity to network, share and learn about other groups' projects and resources in Williams. Churches, civic organization, service gorups, clubs and other businesses are welcome. RSVP is required by contacting Kerry-Lynn Moede at (602) 818-6559 or email at JDMoede@aol.com.
Kiwanis Club seeking vendors
The Kiwanis Club's Gateway to the Grand Canyon Arts and Craft Fair is seeking vendors for the fourth annual event. This event is a major fundraising effort by the Kiwanis in order to sponsor activities for the youth of Williams. All money raised is used to support activities for local youth. More information is available from Judith at (928) 635-9028 or Harry at (928) 635-1441.
Bake Sale Feb. 11
A bake sale will take place at Old Trails True Value Feb. 11 from 9 a.m. to 2 p.m. Proceeds will benefit the Save-Meant-to- Rescue animal shelter.
Elk Ridge Ski area open for season
Elk Ridge Ski and Outdoor Recreation Area is open for the season. The hours are Saturdays and Sundays and holiday Mondays from 9:30 a.m. to 4 p.m. for skiing and snowboarding. Tubing hours are from 9:30 a.m. to 12:30 p.m. and 1 to 4 p.m.
Wildland-Urban Interface and Firewise Summit March 29-30
The second annual Arizona Wildland-Urban Interface and Firewise Summit will take place March 29-30 at the Doubletree by Hilton in Flagstaff. There is no registration cost. The two day summit will help equip homeowners, firefighters and wildland firefighters with information and actions they can take to reduce loss and increase safety in their communities. Topics include fire ecology, hazard fuel reduction grants, firewise principles, emergency managment, forest health and various programs to help prepare for wildfires.
More information is available at dffm.az.gov/newsroom/currentevents.
Big Buck contest
A Big Buck contest and raffle is open to all units south of Grand Canyon. The hunter to score the widest buck (outside to outside) will win a PSE Brute Force Bow with a full package. The contest ends January 31, 2017 and the drawing for a Ruger American rifle 22-25 caliber takes place Feb. 1 at the Outdoor Store located at the corner of West Route 66 and Fourth Street.
Monday and Thursday Night football at American Legion
The American Legion Cordova Post 13, located at 425 W. Grant Ave., will host Monday and Thursday night football viewing. There will be different food selections and drink specials each night. Donations gladly accepted and greatly appreciated. More information is available by contacting Mark at (928) 542-6873.
Coconino County Master Gardener Program
The Master Gardener Program is being offered for those interested in learning more about the specific gardening and horticulture needs in their geographic areas. The 15 session Coconino County Master Gardener Program emphasizes the needs and challenges of high elevation gardening. The program involves both classroom learning and a hands-on volunteer commitment. For an application, call (928) 774-1868 x110 or e-mail bgobble@email.arizona.edu.
SAVE-MTR teams up with Amazon Smile to help animals in need
Amazon Smile is a simple and automatic way for people to support their favorite charitable organization every time they shop, at no cost to the person. Amazon will donate a portion of the purchase price to SAVE-MTR if you go to Amazon Smile and follow directions on how to create the account. When asked to choose your charity type, type in SAVE-MTR and you will automatically be directed to the site.
Salvation Army Assistance
The Salvation Army provides rent and utility assistance to residents of Williams, Valle, Ash Fork and Seligman. Those needing housing assistance or utilities help can call for an appointment with Patricia Helgeson at (928) 221-3577.
More like this story