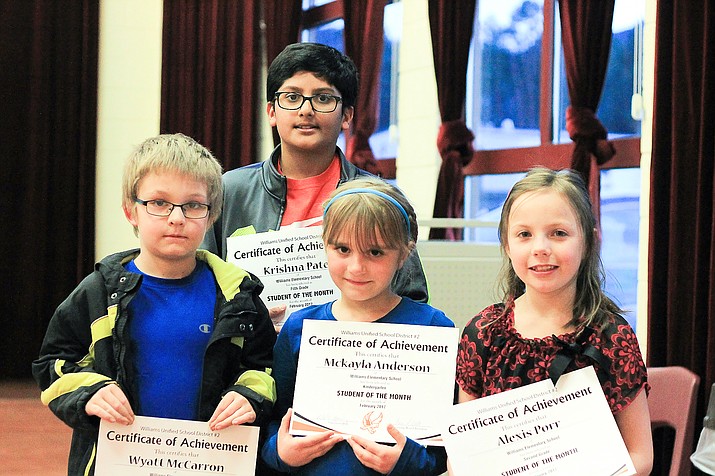 Photo by Wendy Howell.
Originally Published: February 21, 2017 2:04 p.m.
Williams Unified School District (WUSD) recently announced the February Students of the Month.
Mckayla Anderson is the kindergarten Student of the Month. Mckayla's teacher said she is always happy and smiling. She tries her best on her work and always does her homework. She is respectful, helpful, and a friend to others. She has learned so much this year. Her teacher is happy to have such a nice girl in our class.
Alex Lara-Romero is the first grade Student of the Month. Alex's teacher said he is a fantastic citizen and one of the hardest workers in the classroom every day. He has a beaming smile and an exceptionally great attitude. His hardwork has helped him move up two levels in Dibels testing since the beginning of the year. His teacher said she cannot say enough about what a great joy it is to have Alex in class.
Alexis Porr is the second grade Student of the Month. Her teacher said she is the first to volunteer when needed to help an adult or peer. She is kind, caring and shows great character at school. Alexis works hard, has improved in all subject areas and did great on benchmark testing. She is a delight to have in class.
Wyatt McCarron is the third grade Student of the Month. Wyatt is new to school this year. He is a quiet student that is good at completing his work — both homework and classwork. He is a good example in class of getting to work when assignments are given. His teacher is happy to have this quiet, friendly boy in class.
Sam Racher is the fourth grade Student of the Month. Her teacher has watched her grow so much. Sam is constantly setting goals for herself and meeting them. She doesn't let struggles stop her. She perseveres with a positive attitude, taking and seeking feedback to further improve herself. She is kind and respectful to teachers and her classmates.
She is a true joy to have in class.
The student for February fifth grade Student of the Month is Krishna Patel. Krishna's teacher said he always has a smile on his face. She said he is positive in class and he brings a smile to all those around him. He works very hard to keep his grades up and to get his schoolwork finished on time. He is an excellent role model for his peers, not only with his diligence in completing his assignments, but just with his positive attitude with everything he does.
Xavier Marrufo is the male Student of the Month at the middle school. His teachers say he has shown huge improvement in his academics over the past few months. He is a hardworking and positive student who is always helping others. He is kind and respectful to both classmates and school staff. He is a pleasure to have in class, and is always on his best behavior.
Carmen Cody is the female Student of the Month at the middle school. Her teacher's say she is a motivated and hard-working lady with a mind for mathematics. She has shown tremendous growth in all academic areas and is an absolute pleasure to have in school.
Daeja Lomas is the female Student of the Month at the high school. Her teachers say she is has amazing grace in handling difficult situations. She goes out of her way to help others feel good about themselves. She has an infectious laugh, her school work is top notch and she will be able to do any career she decides on. She is learning different instruments and plays in the band. Although a bit shy, she is a leader in her own way. Daeja has earned the respect of all her teachers and administrators by just being herself.
Quinn Howell is the male Student of the Month at the high school. A teacher's greatest joy is to witness the blossoming of a student over a period time. Some students grow in maturity, others in sports and others make great strides in academic progress. Quinn has hit all these areas. He has made a point to maintain good grades, participate in baseball with a passion and has been tenacious about knocking down every obstacle in his path.