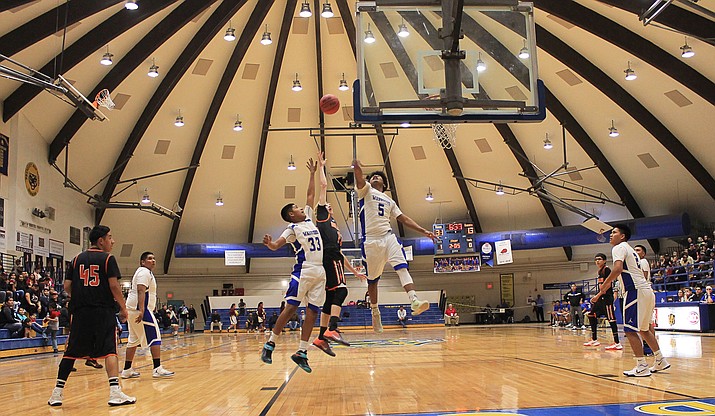 Photo by Wendy Howell.
Originally Published: February 21, 2017 1:53 p.m.
The Baboquivari Warriors are known for their stout defense, and the Williams Vikings got the bitter taste of that Feb. 17 at the first round of the 1A State tournament.
The Vikings struggled in the first half against the Warriors who held the Vikings outside of the key and pressured the Vikes into turnovers and forced shots allowing the Vikings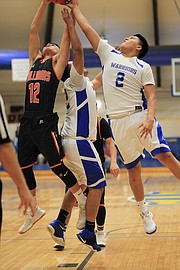 only three field goals before going into the half leading 29-13.
Photo Gallery
1a State Playoffs Basketball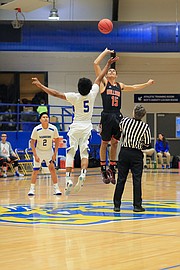 "It was a difficult game for us," head coach Troy Mortensen said. "I don't think we underestimated them but I'm not sure we were quite ready for it."
The Vikings returned after the half minus starter Diego Pedraza, who was evaluated for head and neck injuries after a bad collision, and continued to battle the Warriors as they worked to get inside the key.
"They were big strong kids," Mortensen said.
The Warriors continued the assault on the Vikings and distanced themselves from the Vikings leading 42-22 at the end of the third.
However, the Viking starters, with help from the bench, began chipping away the Warriors big lead and brought the game to within nine points by the middle of the fourth quarter.
"I was proud of the boys, they never quit playing," Mortensen said. "We rallied in the fourth, but we got into foul trouble and it was too little too late."
The Warriors held fast to their lead, though and the Vikings ran out of time to work any magic, with the Warriors taking the win 51-39 and advancing to the second round. The Warriors faced the NFL Yet Feb. 18 where they lost 93-75.
Mortensen said he is proud of the 20 win season the boys had and is excited for next year with the Vikings only losing one player to graduation.