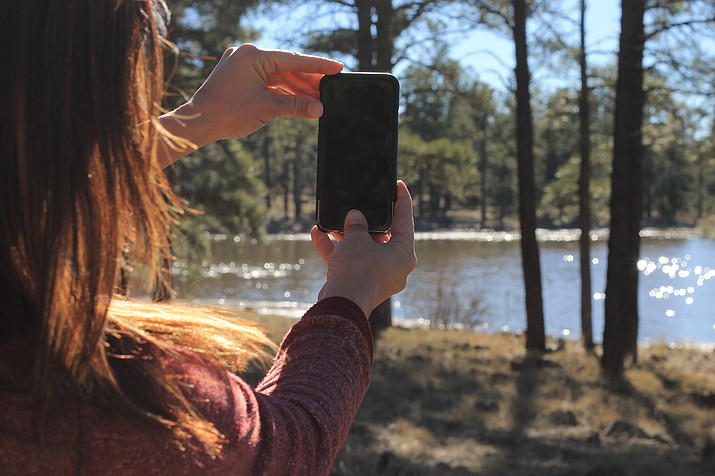 Photo by Wendy Howell.
Originally Published: February 21, 2017 12:24 p.m.
Gotta catch em' all. Children are in the school yard, phones in hand as they walk around pointing at objects on the ground, in the trees and behind rocks. Adults are seen walking through a field, phone out, eyes on the screen. The adults and kids are mesmerized by something on their iPhones and Androids. Is it Pokémon Go? Have they caught Pikachu, Raichu, and Sandshrew?
No, it's not Pokémon Go, these children and adults are using iNaturalist, a new social media app for nature lovers.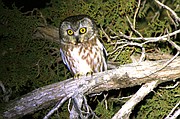 iNaturalist was created for outdoor lovers seeking connection. It invites users to forge a relationship with nature and each other through a free app. The app has created an online community that includes environmentalists, naturalists, scientists and other outdoorsy people. These people can post, browse and comment on photos of living organisms throughout the world.
Nearly 4 million observations have been shared by naturalists since iNaturalist's founding in 2011. Data collected from over 250,000 users has helped researchers and biologists, and time in the outdoors has bridged a gap between technology lovers and their interactions with nature. Developers say it is an ideal environment for meeting people, appreciating the natural world and bonding through a shared interest.
Several land management agencies have tied into iNaturalist for the data collection potential and a chance to reach out and connect people to what they have to offer. Kaibab National Forest paired with iNaturalist in January of this year as they launched their Citizen Scientist program in hopes of identifying and documenting the biodiversity of the Kaibab National Forest.
"See, snap and share. There's really nothing more to it," said Natasha Kline, forest biologist for the Kaibab National Forest. "It's a great way to explore the forest, contribute to our knowledge of biodiversity in the area, and experience the awesome flora and fauna that the Kaibab National Forest has to offer."
Once a user has registered on the app, it is easy to begin taking photos of observations and posting them. The user can select projects they want their photos added to and attempt to identify the photos using online guides. The photos are then available for anyone to comment on or make an identification of, which will lead it to receive a research grade identification.

"The power of this app is amazing," said Kaibab GIS Specialist Mark Christiano, "If you don't know what you saw, you can just type in bird and get crowd sourcing identification. We also have guides we posted for our project and our biologists and specialists also see the post and help with identification."
Kline said there is a scientific benefit to the forest and an educational outreach benefit. She said the photos and identifications supplement the Kaibab's animal and plant lists, and it connects people to experts inside and outside the forest to discuss findings.
"The benefits we are finding are so great," Kline said.
Kline said the data collected not only stays with the Kaibab, but is useful for other projects that are connected to iNaturalist. She said agencies such as Grand Canyon National Park and Arizona Game and Fish Department, and independent groups such as Birds of Arizona and Mammals of Arizona have projects on iNaturalist that collect the data users submit throughout the state.
"Our project observations contribute to other projects. It's a worldwide database," she said.
Kaibab managers hope to use the data to expand their collection of voucher photographs that legitimately verify an animal is in the forest in a specific location. Once a photo is taken, and uploaded to the app, a geolocation can also be collected with the time and date.
"It (vouching) used to be done with specimens," she said. "But now with cameras, a picture can vouch instead of having to collect something. And we also have the exact location."
Kaibab biologists are excited to see what visitors to the forest find and share on the app. Kline said it would be thrilling to find new or rare species, but even photos of common animals such as ravens and mule deer are important data.
"Abundance and distribution of species is important, too," she said. "So like with a ponderosa pine, it seems like they are everywhere, but they may be rare in certain habitats and the location and timing data really creates a picture."
Kline said with recent climate change, changes in land use, redistribution of water, urbanization and agriculture impacts are changing animal and plant habitats.
"We're noticing where animals are now versus where they used to be is getting really interesting," she said. "Especially animals that are very mobile like birds, which are showing up in places that they didn't before."
The iNaturalist app also collects data on flora that can be useful to biologists. Kline said she is eager to see the photos people submit in the spring once plants begin to bloom.
"It's easy to take photos of plants because they stay put, the phenology will be interesting for us," she said. "The timing and location, and the changes with snowfall affects them. There are several programs that are putting together a national picture and documenting how it has changed from 10 years ago."
Public Information Officer Jackie Banks said Kaibab managers hope the iNaturalist app will connect forest users more easily to the biologists and other specialists who work at the agency.
"I think the connection and discovery community members and students make while taking pictures will help them feel some ownership toward the forest and public lands," she said. "I hope they get a sense of belonging to the place and feel a connection (to) employees with the forest service."
Banks said she thinks the merging of social media and nature is a good way for people of recent generations to feel included.
"Many are feeling disconnected," she said. "This app will allow people to not only connect with us (forest employees) but also the naturalist community as a whole."
Banks said the Kaibab hopes to expand its projects on iNaturalist. She said the forest has already partnered with local tribes for a survey of bald eagles.
"It is going to be a great tool to bring forest service employees and specialists together with community members and partners to study the forest," she said.
Kline said she hopes more forest staff and visitors download the app and begin reporting the plants and animals they see.
"The more eyes and ears we have in out in the forest is more information for us," she said. "This is a way kids and adults can use technology to connect to the natural world."