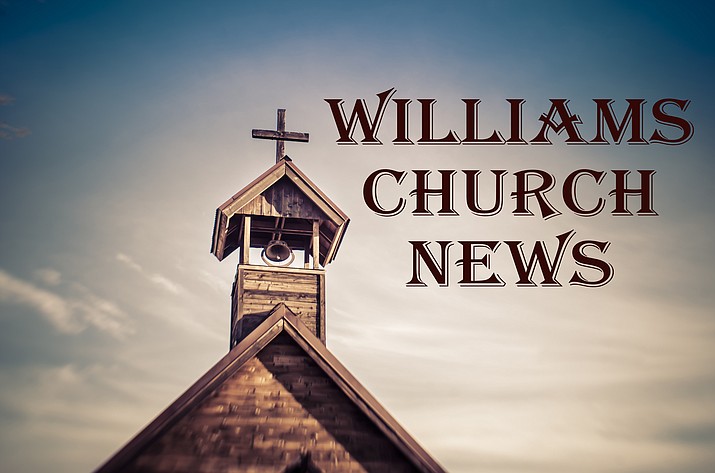 Holiness Congregation Church
Sunday school starts at 9 a.m. and worship at 10 a.m.

Holiness Congregation Church is a Bible-based non-denominational Christian church. Join us and let's talk about Jesus. We have a family atmosphere where everyone is welcome and children and parents learn together. Babies are welcome too. Anyone with questions can call (928) 853-0395.
Community United Methodist Church
Cubs Scouts meet Monday at 6:30 p.m., Women's bible study meets Tuesday at noon and from 1-3 p.m. Not Sew Perfect Quilters will meet. Wednesday recharge dinner at 6 p.m. with study starting at 7 p.m. Thursday the Women's Bible study will meet at 9:30 a.m. and the hand bell choir practice is at 5:30 p.m. Men's ministry meet the 2nd and 4th Saturday at 7 a.m. Sisters in Spirit meet the 2nd Saturday each month - location TBD. Adult Sunday school class meets Sundays at 8:45 a.m. 9:50 a.m. prayer before worship with worship and Young Disciples Church at 10 a.m. Youth group meets at noon.
Family Harvest Church
Come and be a part of what God is doing in our community of believers. Sunday Worship & Word at 10:30 a.m., Kids Church 11 a.m., Teachings at 6 p.m.
On the third Wednesday and Fourth Thursday of the month, meet at 6 p.m. to go to Sonshine Rescue Mission in Flagstaff to feed and teach about the love of Christ.
Last Sunday of the month we participate in community service at various churches.
More information is available at (928) 635-5208.
St. John's Episcopal - Lutheran Church
The Adult Choir practices each Wednesday at 5:30 p.m. in the sanctuary. Women's book study is held each Monday at 9:30 a.m. in Walker Hall.

On February 28, St. John's welcomes the community for a Shrove Tuesday Pancake Dinner – all you can eat! A free will offering is requested in lieu of a set price for the dinner. The dinner is from 5 - 7 p.m.

Adult Spiritual Formation class takes place Sundays at 9 a.m.
St. John's welcomes all visitors and the community to join us for worship and fellowship each Sunday, with service beginning at 10:30 a.m. More information is available at https://www.facebook.com/stjohnswilliamsaz/.
St. Joseph Catholic Church
Religious Education classes for children continue on Sundays at 4 p.m. in the Parish Hall. Come join us for our regular schedule of Masses, Sacraments & Worship:
Saturday: 3-4:30 p.m. Confessions; Holy Rosary 4:30 p.m.; Sunday: Holy Rosary 7:30 a.m.; 8 a.m. Christmas mass in English. The Parish Office is open 10 a.m.to 4 p.m. Monday, Tuesday & Friday.
First Baptist Church
Join us Sundays for Worship at 10:45 a.m with a mix of music, kids time, Children's Church and more with preaching by Pastor Joe Oswald. On Sunday Bible study is at 9:30 a.m., Monday: Men's Bible study and Latino Bible Study at 6:30 p.m. Tuesday: Women's Bible study at 9 a.m., prayer at 10 a.m. Faith and Fun Night is at 6:30 p.m. Wednesday the RedZone for third through sixth grade is at 3:45 p.m. and youth group for seventh through twelfth grade at 6:30 p.m. Thursday: Women's Bible study is at 6:30 p.m. More information is available at (928) 635-4692 or at www.fbcwilliams.com.
Church of Jesus Christ of Latter Day Saints
We welcome you to our church. Our activities include:
• Wednesday, 7 p.m., Cub Scout Pack No. 138 (8-11 years), Boy Scout Troop No. 138 (12-17 years), Young Men/Young Women (12-17 years), and Achievement Day Girls (8-11 years).
• Sunday — 10 a.m., Sacrament Meeting; 11:20 a.m. Sunday School, Primary and Nursery; and 12:10 p.m. Priesthood, Relief Society and Young Men/Young Women.
Northwoods Church
Every weekend we gather for our worship and teaching experiences on Sunday at 10 a.m. With services and classes for your kids, as well, during our worship experience on the weekend.
More information is available at northwoodsaz.org or at (928) 635-8911.
Calvary Chapel Williams
Calvary Chapel invites you to be a part of our contemporary Sunday worship service. We offer a casual, come-as-you-are atmosphere and verse by verse teaching of God's Word.
Sunday service begins at 10 a.m. We offer nursery, toddler and children's Sunday School during the worship service. More information is available from Pastor Dave Remender at (928) 202-1378.
Canyon Chapel - Foursquare Church
Join us Sunday mornings for our Celebration Service at 10 a.m. Children's church to follow worship.
The Resistance Youth gathering is at 6 p.m. Wednesdays. Join the amazing young people of Williams.
Spanish Bible Study meets on Thursdays at 6:30 p.m. Oracion y Estudio Biblico "Las Buenas Nuevas" los Jueves a las 6:30 p.m. Ladies Coffee and Bible Study on the 1st and 3rd Saturday of the month at 10 a.m. meeting at Cafe 326.
Jehovah's Witnesses
The Jehovah's Witnesses warmly welcome you to their weekly Bible meetings:
• Sunday — Bible discourse, 10 a.m.; Watchtower study, Matthew 6:10.
Mid-week meeting Thursday at 7 p.m.
More information and literature visit www.jw.org.
More like this story