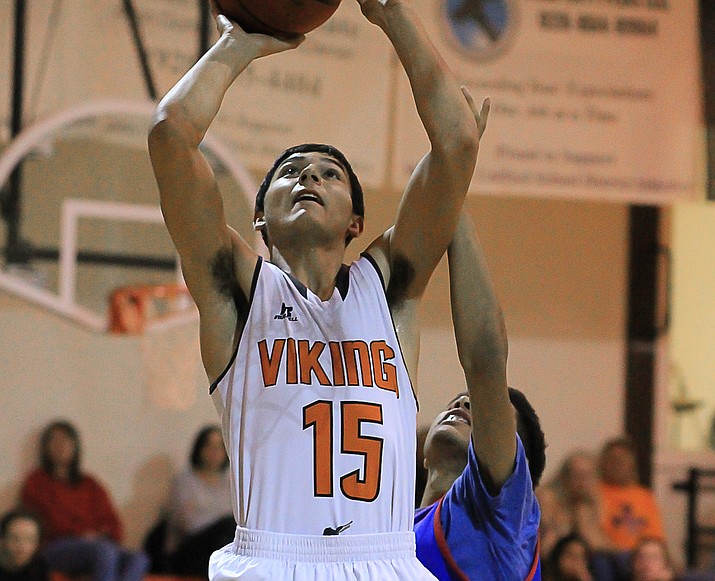 Photo by Wendy Howell.
Originally Published: February 7, 2017 12:14 p.m.
WILLIAMS, Ariz. — Coming off a 52-46 win against Mogollon High School Feb. 2, the Williams Vikings head to the 1A Central tournament with a 14-2 regional record.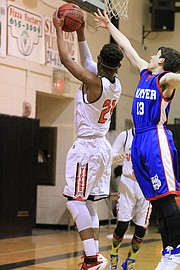 The team is ranked 10th in the 1A Conference and will most likely get an automatic placement in the 1A state tournament that begins Feb. 17.
"The state tournament brackets will be determined after the Saturday games," said head coach Troy Mortensen.
Mortensen said the top 16 teams in the 1A Conference will play in the state tournament. Any team that wins their region or wins a regional tournament will also get a placement in the state tournament.
The Vikings are coming off a win against Mogollon where junior Payce Mortensen was selected as Player of the Game for putting up 19 points, including five 3-point shots. Mortensen was also 2-for-3 on free throws and led the team with five assists and five steals.
Zack Perkins made 14 points against Mogollon and had eight rebounds. He also had four steals and created five turnovers.
Diego Pedraza had the highest shooting percentage in the game for the Vikings, shooting 71 percent on field goals making 10 points for the team.
Stephen Gary and Brandon Tully also added to the Viking scoring with six and three points respectively.
Gary recorded the highest rebounds for the game with 13.
Mortensen said it has been a good season for the boys and he is proud of the record the team has posted as the head into postseason play.
"We've had some ups and downs," he said. "Nothing really bad. Everybody has bounced back from the losses that we had. We're sitting okay and I'm happy with the way the boys have played."
Mortensen said the boys have matured throughout the season and with only one senior, the team will continue to improve.
The Vikings face Ash Fork Feb. 8 at 6 p.m. at Williams High School for the 1A Central regional tournament.