Photo by Wendy Howell.
Originally Published: December 12, 2017 4:43 p.m.
Click link below for more photos
Photo Gallery
Vikings Basketball Dec. 9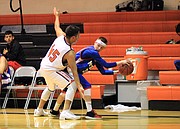 The Williams Lady Vikes moved to 3-1 in the section after a 38-33 win over the Mayer Wildcats Dec. 9, but the Vikes received their first loss of the season to the Grand Canyon Phantoms Dec. 10.
In the Dec. 9 game, the Lady Vikes maintained a steady lead over the aggressive Wildcats throughout the game. Senior Veronica Hernandez was selected as Player of the Game by Coach Phillip Echeverria for her 12 points and leadership on the court.
"We scored most of our points when they did a full court press," Echeverria said. "We're best when we're running the floor, getting out and going."
Echeverria is still working with the girls to create a steady offensive flow. He said the girls are scoring well on fast-breaks, but struggle when faced with a half-court defense.
"We get to standing around," he said. "If we are guarded we kind of stay put. That is where we struggle the most."
Echeverria said the team is setting goals for 10-points each quarter and to control their play without regard to the opposing team's defense.
"We're trying to get the girls to play ourselves and not worry what the other team is doing," he said. "If we get 40 points per game we'll win most games."
Hernandez went 5-for-7 from the floor with a 71 percent shooting percentage. She also sunk two free throws in four attempts. She was followed by Madi Olson who made seven points including one 3-pointer, one field goal and two free throws. Amaryssa Orozco scored six for the Vikings with three field goals.
Hernandez also led the team defensively with seven steals, two defensive rebounds, one assist and causing five turnovers.
Orozco followed with two steals, one defensive rebound and five turnovers.
The Lady Vikes head to Mogollon Dec. 11 and return to Williams to face Mingus Mountain at 5 p.m. Dec. 14.
The Vikings boys had two easy wins last weekend when they beat the Wildcats 64-27 Dec. 9 and the Phantoms 64-34. The wins moved the Vikings to 3-2 in the section.
Daniel Lopez was selected as Player of the Game against Mayer. Lopez scored 12 points for the Vikings and went 5-for-7 from the floor with a 71 percent shooting percentage. Lopez also went 2-for-2 with free throws. Defensively Lopez led the team with nine steals, four assists, four rebounds and one turnover.
Payce Mortensen led the team with 16 points, going 5-for-10 in field goals, and 3-for-8 in 3-point shots. Defensively Mortensen had seven steals, six assists, three rebounds and two turnovers.
William McMenamin had 11 points making 5-for-11 in field goals. Juaquin Gutierrez had 12 points going 5-for-9 from the field and 1-for-2 in free throws.
The Vikings travel to Mogollon Dec. 11 and face the Holbrook Indian School at 6:30 p.m. Dec. 14 at home.