Originally Published: December 5, 2017 8:34 a.m.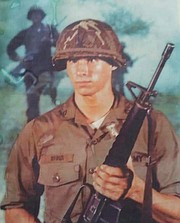 He was older —much older than most of the men on the small base in the mountains of Afghanistan. His men affectionately thought of him as the grandpa of the base and at 49, Michael Rioux was the oldest man in the unit.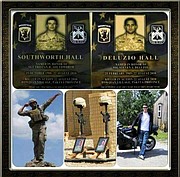 In 2008, Rioux signed up to serve full-time with the Green Mountain Boys — a mountain warfare unit in the Army National Guard Unit in Vermont. In 2010, the unit was deployed to Afghanistan where Rioux served as a team leader in the Paktia Province of Afghanistan.
The men served on a small base, with only 100 men stationed. Sixty of those were fighting men, the others were support. Their job was to conduct patrols along the Afghanistan/Pakistan border.
"It's been seven years ago that I was over there," Rioux said. "At the age of 49, I was on the mountains of Afghanistan. We operated between seven and 10,000 feet. (I was) with these 20-year-olds and I was the oldest guy on the whole base — there was nobody older, but I could keep up with all of them. As a matter of fact they had had a hard time keeping up with me at the time."
His time with the Green Mountain Boys was part of Rioux's experiences as an older man, but he had served in the Army previously.
Rioux went into the military right out of high school. He was trained in the infantry, specifically in a reconnaissance platoon in Fort Lewis, Washington. This was right after the Vietnam War ended in 1975 and much of his training was based on the mentality from the Vietnam era.
"We were always prepping, always training, just in case — because we never knew," Rioux said.
After he finished his enlistment, he moved to Arizona and served as an assistant platoon sergeant with a military police unit in Phoenix.
They were activated once, in 1983, for the Morenci Strike in Morenci, Arizona.
"The miners were striking against Phelps Dodge and they shot up a bunch of DPS cars. It was almost like a war zone down in Morenci. It was pretty wild," he said. "We rolled in with three miles of tanks, dump trucks and helicopters and rode with the local police."
From 1987-2001 it was a time of peace, with the exception of the Gulf War. For 21 years Rioux was a civilian — he was busy raising his daughters and working as a land surveyor. In 2001, Sept. 11 happened and Rioux felt the need to reenlist, but he waited.
"When 911 happened I wanted to go back in right away but I was still raising my two girls. So when the last one was out of the house I went to the recruiter in 2008," he said.
"I just had a need to serve my country again," he added.
During his deployment to Afghanistan, there were both good and bad experiences.
In one village, near where his unit was stationed, the men helped build a medical center and another time they helped get school supplies for local children.
During the nine months they were in-country, Rioux completed 65 combat missions and went through 12 major firefights. Two of the men in his unit were killed — Steven Deluzio and Tristan Southworth.
"We were going through a village, we were on the side of a mountain and I led a patrol coming up through the village meeting the other group. The other group got hit first. They took machine gun fire from the south, that's where we lost the first guy. We had the (Haqqani) moving up from the west over the top at us and we were taking fire from the village, from the houses," Rioux remembers. "There were only 23 of us that went up that day. We had 200 combatants coming in from the north. In the middle we had Apache helicopters coming in — they kept most of the 200 guys off of us. But we lost two guys that day — more should have died. There was no cover, it was wide open and we were taking fire from everywhere."
"We didn't all make it back," Rioux added. "We had some harrowing stories — outnumbered 10 to one and fighting our way out ... that band of brother's thing, yeah, that's real. Especially if you've fought and bled together."
In Dec. 2010 Rioux returned to the U.S. and struggled with severe PTSD — he still does.
"You make a lot of split second decisions — life and death and sometimes when you come back and try to transition into civilian life it is very difficult," he said.
After he came back, Rioux had six different jobs in eight months. He couldn't hold onto any of them and struggled with trying to care for his family. He went through a divorce.
"You have a lion, who is the king of the beasts, who is trained for life and death — a hunter who is powerful. He has lived that way for some time, everything is life and death. Then you take him out of that situation and put him in a petting zoo and he's expected to behave," he said.

Rioux knew he wasn't alone. By that time he had retired to Williams and opened Hope for the World, which was his way to help veterans dealing with similar issues. He offered them The Combat Trauma Healing Manuel, which he said deals with guilt and anger against God and the circumstances veterans have been involved in.
Today, Rioux continues to look out for other veterans.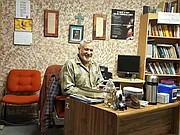 "As far as a solution, I believe faith in God, that deals with the inner struggles," Rioux said. "You still get angry, frustrated. It's still a struggle."
Rioux serves as chaplain and assistant service officer for American Legion Post 42 Grand Canyon as well as chaplain and service officer for the VFW Post.
"Al (Dunaway) and I work together, hand in hand, working with veterans who come in and need help with their benefits, need to start the VA process or are wrestling with removing stumbling blocks through the VA. We help them navigate through the system," Rioux said.
Rioux also has a radio program "The Narrow Way" which airs Thursday evenings on KZBX 92.1 FM in Williams.
"I want to now serve and support my brothers and sisters who served in the military and to help them with what they've earned. They've sacrificed — I don't care what branch of service or what capacity. You have laid your life down when you signed that dotted line … now I want to help them," he said.
Rioux is available on Fridays at his office at Hope for the World 117 W Route 66 Suite 125 in Williams or at (928) 266-6955. He welcomes calls from any serviceman or woman in need.
More like this story