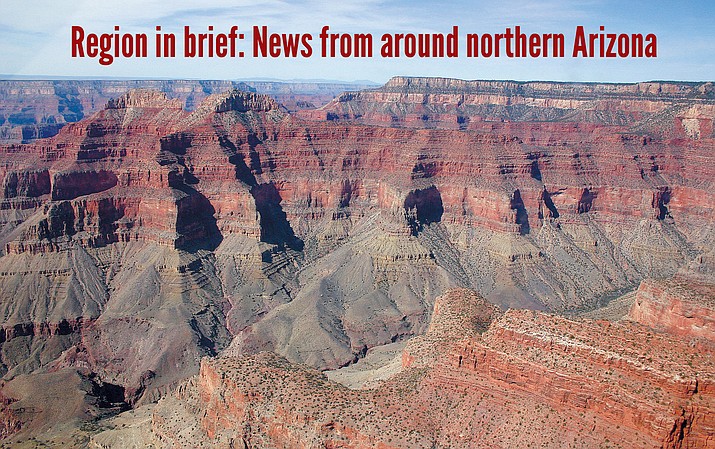 Photo by Williams-Grand Canyon News.
Originally Published: December 5, 2017 11:41 a.m.
Deep Well Ranch approved
PRESCOTT — In three consecutive 6-1 votes Nov. 28, the Prescott City Council OK'd the related rezoning, airport-area plan, and development agreement that will allow the 1,800-acre Deep Well project to go forward under a master plan. The project has generated considerable debate in the community — especially on the 10,500-home cap that is included in the master plan.
Reward for N. Rim deer poaching information
GRAND CANYON — The Arizona Game and Fish Department is offering up to an $8,000 reward for information leading to an arrest of a suspected poacher involving a mule deer buck that was found dead near Mount Logan on the North Rim of the Grand Canyon. The deer was recovered in game management unit 13A off County Road 5 and is suspected to have been killed sometime between Nov. 17 and Nov. 19. Anyone with information can call the Department's Operation Game Thief Hotline toll-free at 1-800-352-0700.
Condor reintroduction hindered by lead poisoning
GRAND CANYON — From 1996 through 2016, a total of 189 condors were released in the northern Arizona and southern Utah population, and 29 chicks were wild-hatched. Through the end of 2016, 125 of these birds have died, including 20 of the wild-hatched chicks. Researches said reintroduction efforts have been complicated primarily by lead poisonings. Such poisoning cases predominately occur in fall and winter months, during big game hunting seasons, when condors often feed on lead-tainted meat or gut piles.
NPS seeks input for control of non-native fish
PAGE — The National Park Service is seeking public input on an Expanded Non-native Aquatic Species Management Plan in Grand Canyon National Park and Glen Canyon National Recreation Area. Biologists say that control measures for expanded non-native aquatic species are needed because of the increase of green sunfish, brown trout and the potential for other harmful non-native aquatic species to threaten downstream fish and plants native to the area.
Protestors confront employees at Snowbowl opening
FLAGSTAFF — More than a dozen sacred sites protectors in hazmat suits confronted Snowbowl employees and recreationists with with banners, caution tape, and chants at the opening of Snowbowl Nov. 21. After being forced to delay its opening day twice because of lack of natural snowfall, the ski area opened one lift and one run to sparse attendance with snow made from millions of gallons of 100 percent treated sewage.
More like this story