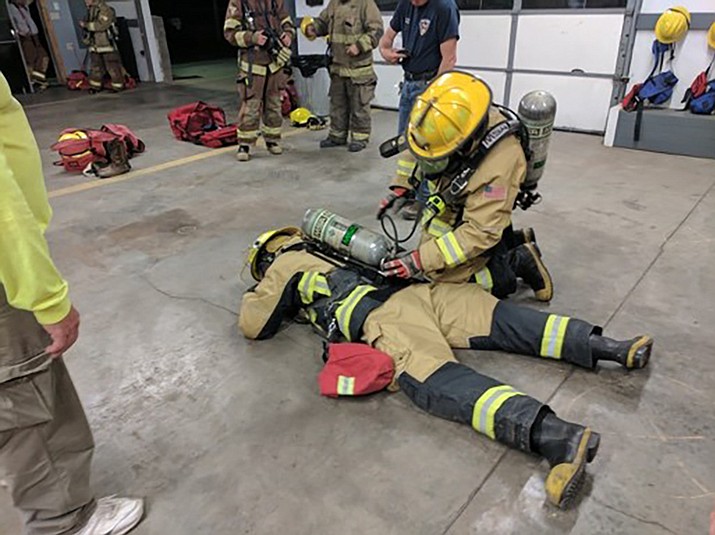 Originally Published: August 22, 2017 5:19 a.m.
Williams Volunteer Fire Department handled several events and calls in July and August, including a busy Fourth of July weekend and an airplane mishap at the airport.
On Aug. 2, Williams fire responded to a smoke report south of I-40 at mile marker 161. Following an investigation, it was determined the fire was in the southern portion of the Escalante development. Kaibab Naitonal Forest was notified and assumed control of the small wildfire.
Later that same day, Williams Fire responded to I-40 for a trash bin fire. Firefighters dealt with a rekindle of paper products that had burned the night before. The products consisted of large paper rolls being transported in trash bins. Firefighters used foam from Engine 4 to extinguish the fire.
On Aug. 5, firefighters responded to the Hat Ranch for a medical assist. While en route, Rescue 1 experienced a tire blowout. Firefighters at the station were able to take the call utilizing another engine.
Later that day, firefighers responded to Williams Airport for an aircraft mishap involving a fixed-wing plane. The landing gear collapsed. No injuries were reported.
On Aug. 18, Williams Fire responded to a call for assistance with a motorhome. Firefighters forced entry into the RV and found a deceased male and a dog. The dog was cared for by firefighters until transfer was possible.
On Aug. 19, firefighers responded to a structure fire at the St. Agnes apartments. Upon arrival, firefighters found smoke in the apartment. The occupant put the fire our prior to firefighter arrival. The investigation found a possible electrical fire from a floor fan.
Other Williams Fire news for August
Firefighters attended a young resident's birthday party at the request of the family Aug. 5
Firefighters are preparing for a fireworks display at Williams High School football games.
Williams Fire will have an engine at Old Trails anniversary party Aug. 26
Williams Fire is hosting space for CERT Team training on the second Monday of each month.
On Aug. 18 firefighters hosed a training that included breathing techniques during fire operations, Mayday radio transmission, buddy breathing, use of the Channellock 88 tool and search and rescue basics. They also did a mock self-rescue where a connex box was filled with smoke and firefighters had to self-rescue.
New firefighter helmets are being distributed to new members.
The department thanked Dollar General for donating Gatorade to firefighters during the hot summer months.
Williams Fire answered the following calls for service in July:
Firefighters responded to a brush fire with an electrical line down on highway 51, Kaibab National Forest assisted;
Firefighters responded to a medical assist for a 77 year-old male;
Firefighters responded to illegal burning;
Firefighters responded to a tree on fire because of a lightning strike;
Firefighters responded to electrical wires down;
Firefighters responded to a traffic accident on I-40;
Firefighters responded to a carbon monoxide leak at Love's Travel Stop.
More like this story