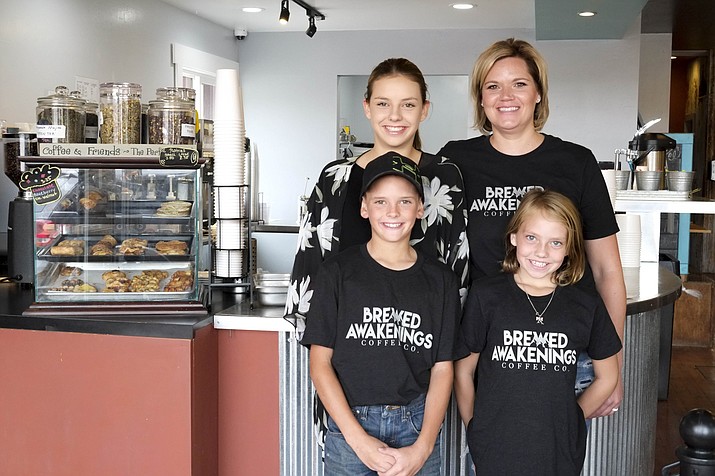 Photo by Loretta Yerian.
Originally Published: August 22, 2017 3:22 p.m.
Cameron and Devin Maebe have a clear goal in mind — invest in their community and help make it a place they want to raise their children. With the opening of Brewed Awakenings, a new coffee and yogurt shop in Williams, they are off to a good start.
The Maebe family is invested in Williams. They own Results Fitness Center, the only gym in Williams, as well as a construction company, a vacation rental and apartments. They also plan to open duplexes in the near future.

Devin Maebe said investing in the coffee shop was an easy choice.

"It worked out because his (Cameron's) grandpa owned the building, so we bought it from him and then we bought the equipment from Donya (Hadder) who had Café 326," she said.
Brewed Awakenings celebrated its grand opening on Mother's Day. One of the unique things about the coffee shop is that it is one of the only places in Williams serving frozen yogurt.
"We thought having frozen yogurt would do well," Maebe said. "The coffee keeps us busy in the morning and frozen yogurt keeps us busy until after dinner. We're open until 9 p.m. so people come through after dinner."
In addition to their many entrepreneurial opportunities the Maebes have four children who help out and do schoolwork at the coffee shop.
"We homeschool so that works out for them to be able to help out and they are learning all the time," Devin Maebe said. "The younger two learned how to count money back, the old way, this summer —that was fun."
For their 14-year-old daughter, Brooklynn, this is her first official job. She said she enjoys working for her parents and the perks that come with it.

"It's different working for your parents because home life gets mixed into your work life," she said. "It's nice because you can work as much as you like and your parents won't mind … it took me about three days to actually pick up what I was doing, so it didn't take too long."

Brooklynn said learning to make coffee to exact specifications and tastes is one of the bigger challenges.
"You have to ask (customers) because there are so many different ways to make (drinks)," she said.
The Maebes also employ high school students and other family members at the coffee shop. Maebe said it was important to them to offer a place where everyone felt welcome to hang out — especially teenagers.

"I wanted it to be a place where teenagers could come and hang out and not get in trouble, so we have a bunch of board games we brought in and there's been some game nights after school," she said. "The fish tank is a new addition to add to the ambiance of just being a fun, relaxing place."
One other fun aspect of Brewed Awakenings is their drive-thru option.
"Having a drive-thru was a big deal," Maebe said. "That doesn't happen very often here."
Since the building is a historical structure, built in 1929, the Maebe's had to get approval from the Williams Historical Society to make any cosmetic changes to the outside of the building.
"We had to get the historical committee to approve everything we've done," she said. "I think we've done a really good job with the wood beams, it looks really good. It doesn't take away from the historical look at all."

Maebe said since their May opening they have become gradually busier.
"One way to gauge it is in the beginning we were doing 20 pounds of espresso and now we're doing 40 since May," she said.

The Maebes said they plan to open an outside patio area sometime this fall or next spring. The outside seating area will be dog friendly and be open to the public for meetings, group studies and other small gatherings and functions.

Brewed Awakening s serves pastries, oatmeal and yogurt parfaits, frozen yogurt, coffees, teas, Italian sodas and flavored lemonades. They also offer smoothies and will add protein for customers coming from the gym located next door.

They offer a 15 percent discount for those holding memberships to Results Fitness and a 10 percent local discount.
Brewed Awakenings is located at 326 West Route 66 in Williams and is open from 6 a.m. to 9 p.m. seven days a week.
More like this story