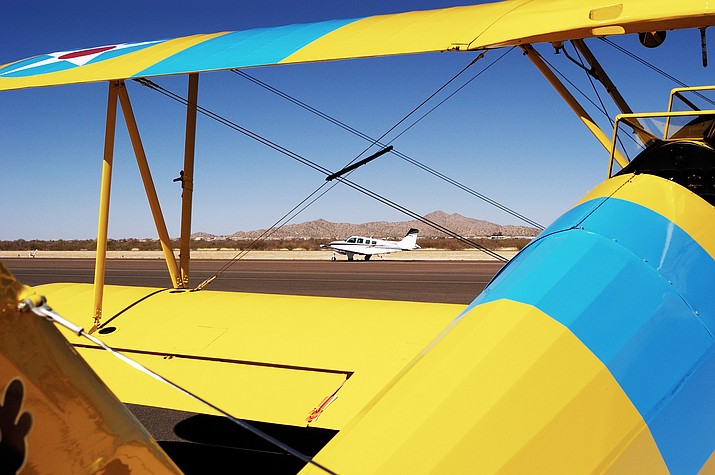 Originally Published: August 8, 2017 8:38 a.m.
H.A. Clark Memorial airport in Williams will be busy Sept. 9 as the Planes in the Pines Fly-In soars into its second year.
The event is open to the public and will include free flights, drawings, vendors, children's activities and more from 7 a.m. to 2 p.m. Organizers Valerie and Chad Thompson are building on the program from last year and hope to offer more for event goers.
The Thompsons, who moved to Williams last year, are the owners of Performance Air, the fixed-based operation that provides aircraft maintenance at the field.
The first fly-in was held shortly after their business was established at the airport in the fall of 2016.
"We had more than 160 people and about 45 airplanes that came to the event last year," Valerie Thompson said. "And that was with just three weeks of planning."
Thompson said people came from all over the western United States last year and they have reached out to even more communities this year. Thompson formed a committee and the group is expanding the event this year.
The organizers are planning to start the event with a pancake breakfast hosted by Williams Boy Scout Troop 138 and sponsored by Grand Canyon Brewery.
Late in the day, a hamburger and hot dog lunch will be provided by the American Legion to raise money for Williams High School scholarships.
Admission is free to the event, but organizers are asking attendees to bring canned or boxed food to donate at the door to the Williams Food Pantry and More.
Once inside the field, children can enjoy a free airplane ride from the E.A. Young Eagles program and other activities such as a bounce house, snow cones, an obstacle course and crafts.
Thompson said last year's event drew more than 160 people, and about 45 airplanes flew in to the airport for the event.
The event was such a success, several sponsors and vendors reached out to Thompson early for this year's event, she said.
"KAFF Country and Terry Marxen are getting involved this year," Thompson said. "As well as many other sponsors and vendors."
Thompson said the goal of the fly-in is to reach out to the local community and the aviation community and expose people to the airport.
"It's an effort to bring out the community to recognize what is going on at the airport," she said.
Committee member and local private pilot Steve Hall said he has watched the airport grow and expand over the last 20 years.
"I've been flying around here for 15 years," Hall said. "This is a great facility. There is a nice big runway for private aircraft. With the trees and mountains surrounding it, it just begs people to come here. It's just a matter of letting people know it is here."
Thompson said the entire event is focused on giving back to the community. She said many of activities and vendors will be accepting donations for various charities.
"We owned the business in Chandler (prior to coming to Williams)," Thompson said. "But the community wasn't as close knit like they are here."
She said there will also be an opportunity for people to meet aircraft operators such as Papillon Helicopters and Guardian Air.
"The airport is a great asset to the community," added committee member Liz Maes. "I've been around aviation a long time. When I saw the announcement, I wanted to be involved and offered to volunteer."
The fly-in committee is seeking volunteers to help with the event. They are looking for people to help with set up, take down, security, entrance gates and errands.