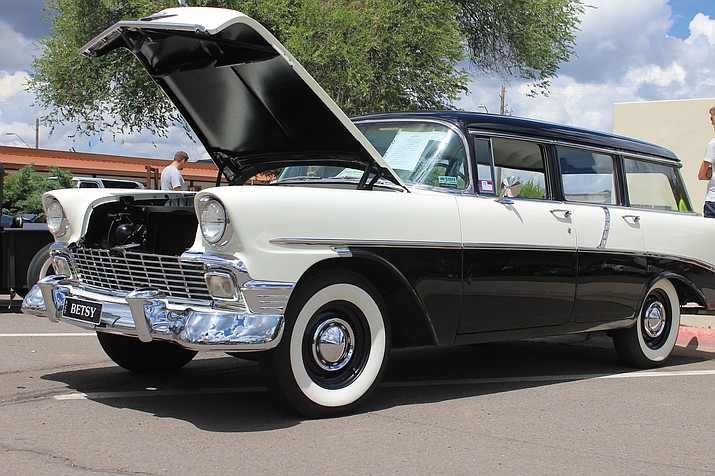 Photo by Wendy Howell.
Originally Published: August 1, 2017 10:30 a.m.
Music, burgers and cool classic cars. The 2017 Cool Country Cruise-in, an annual tradition in Williams, will return to the community Aug. 11-13.
The fun-filled event offers great food, great tunes, and revving engines, as well as a number of other great attractions sure to please both residents and those paying a visit to the Route 66 community of Williams.
"This is our 21st cruise-in here in Williams. We have people that come from all over the United States. Especially people escaping the heat of Phoenix," said Cool Country Cruise-In coordinator Jason Moore. "We even have a group coming from North Carolina."
The cruise-in is sponsored by Twisters restaurant. Moore said the show is competitive with a variety of classic cars on display.
Cars are expected to line Route 66 early Aug. 11, engines gunning, and will remain through the end of the day Aug. 13.
Twisters' owners Jason and Stefanie Moore organize the event. Twisters is located at 417 E. Route 66. When they bought Twisters roughly 12 years ago, the two decided they would carry on the tradition of offering the event each year.
The famous "burger burn" will also be held during the Cruise-in for the whole community, whether one is registered for the car show or not. Locals and car enthusiasts are all invited to come down for the burn, Moore said.
"I will be out there grilling up burgers from about 11 a.m. to 1 p.m. on Friday and Saturday," Moore said. "We'll be out there slinging burgers."
Last year's show had approximately 200 entrants.
A total of 33 trophies will be awarded during the cruise-in.
"We have all kinds of trophies this year," Moore said.
Other categories include best Ford, best Chevy, best Mopar, best under construction, best street rod, best muscle car, best paint, best street car and many more.
"We're going to have Pure Prophet here to entertain as well," Moore said.
Car registration for the cruise-in begins at 11 a.m. Aug. 11 and will continue to 3 p.m. Registration is $50 and can be completed online at route66place.com.
Awards will be presented at 10 a.m., Aug. 13 at Twisters.
More like this story