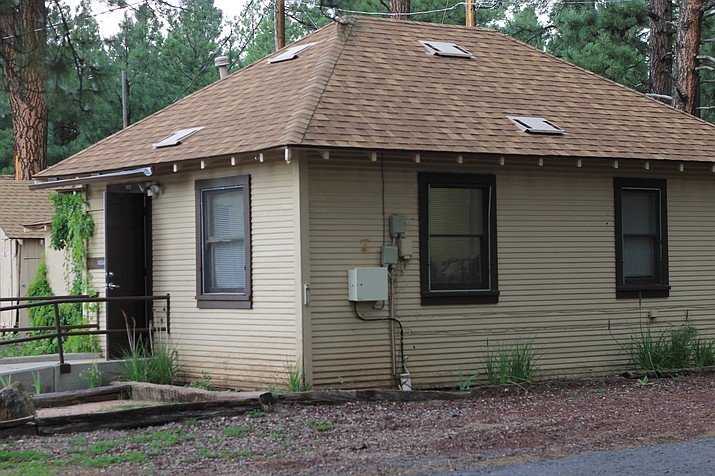 Photo by Wendy Howell.
Originally Published: April 11, 2017 1:52 p.m.
The original Maine School District was established at Rhoades, Arizona on Oct. 19, 1900. The school was originally located in an abandoned residence on what is now Forest Service Road 141, about .3 miles south of the Santa Fe Railroad tracks.
During that time several other rural schools were established in the general vicinity not necessarily from a large population, but because of the poor roads and uncertain weather conditions. In 1924-28, the schools from Spring Valley, Government Prairie, Rhoades, and Pitman Valley merged to become Maine Consolidated School, the name coming from the nearby railroad crossing.
In 1927, the school was moved to the north side of the Santa Fe tracks on Forest Service land to a one room building accommodating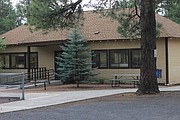 kindergarten through eighth grades. The school eventually purchased 18 acres from the Forest Service on land that borders old Route 66 on the south and Spring Valley on the east.
When Coconino County Superintendent Bessie Kidd Best took office in 1929, Maine had two teachers with 31 students. In 1934-35, Garland Prairie School joined with Maine and enrollment grew to 54 in 1938. However in 1945 enrollment dwindled to 15 and one teacher.
Maine school initially was a summer school running from about March to November and was one of the last two such summer schools in the state in 1949.
In August of 1963, Maine changed from a summer school to a school on a regular school year. Junior high students were bused to city schools, the change made possible by better roads and snow removal.
The standard school year was better for families with students at Parks and others in Flagstaff or Williams schools. At first the upper grade children were bused to Williams, later they were sent to Flagstaff. Maine was an independent district and was required to pay tuition for children sent out of the district for schooling. It had to provide transportation for those students and those coming to Parks.
Flagstaff and Williams school districts were eager to have Maine consolidate with them because the Santa Fe Railroad contributed a considerable amount in taxes to the district. Later, the El Paso Natural Gas Company installed lines across the school property, which provided additional district revenue.
However the Maine district persisted in independence. Concerned community members weighed the cost against other factors, including the disadvantage of having young children spending excessive hours riding buses, the problem of drugs in the city schools, the assurance of their having their children nearby, and knowing personally the people with whom their children associated.
Pressure to consolidate schools in Arizona peaked in 1969. She noted that Maine Consolidated was "the only school left of this type" and that they were likely to lose it.
Throughout the 1970s ,residents and school board members fluctuated between wanting to annex the school with Flagstaff or Williams or maintaining its independence. Supporters of annexation claimed the community was not getting quality education for the tax dollars spent, however, others felt annexation would deprive the community of its central meeting place and hub of activity.
Maine Consolidated School still exists today and maintains many original buildings. The school encompasses kindergarten through eighth grade, with an average of 12 students in each class. District students have a choice of being bused to Flagstaff or Williams for high school.