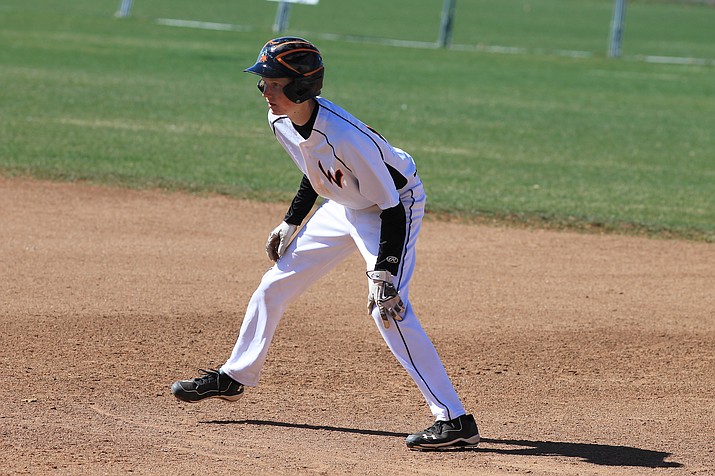 Photo by Wendy Howell.
Originally Published: April 4, 2017 12:11 p.m.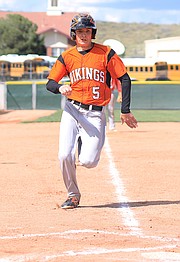 Payce Mortensen's triple play helped the Vikings bring home a win in the first game against Mogollon March 28, beating the Mustangs 9-5, but the Viking's momentum stalled in game two with Mogollon pulling out the win, 5-4.
The Vikings had a rollercoaster run in the first game, pulling in three runs in the third inning and six in the seventh to take the win.
Zack Perkins led the offense, going 2-for-4 and brining in four RBIs. Daniel Lopez and Tate Grantham each went 1-for-4 with one RBI.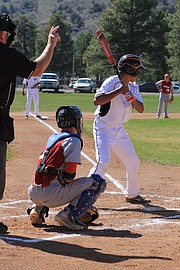 Joe Zabala led the Vikings from the mound, pitching six innings. He had seven hits, three earned runs and one strike-out.
During game two, the Vikings trickled in a run in the fourth, the sixth and two runs in the seventh.
Carsten Brinkworth led the attack for the Vikings going 2-for-3 at the plate. Perkins and Mortensen went 1-for-4, Mario Martinez went 1-for-1 and Grantham went 1-for-2 with one RBI.

Perkins led the Vikings with two stolen bases, followed by Mortensen and Grantham with one a-piece.
Freshman Kolby Payne pitched two innings with three earned runs, three hits and two strike-outs. Lopez pitched five innings with no earned runs, two hits and three strike-outs.
The Vikings head to the Chandler Prep tournament April 6-8.
The Lady Vikes brought home two wins against Mayer March 21. The Vikings dominated the Mustangs, 13-1 and 24-12. The Vikings then played Arizona Lutheran Academy March 23 winning 13-1.