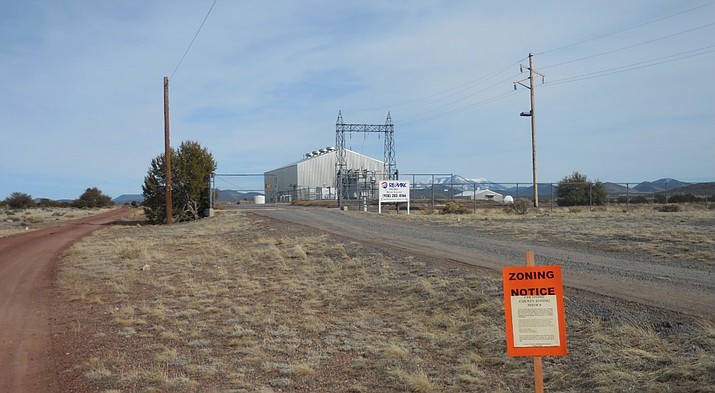 Originally Published: April 4, 2017 9:39 a.m.
Despite a second public meeting rescheduled for April 26 for a proposed wood processing mill south of Valle, Arizona, local residents are concerned the decision has already been made for the location of the mill.
"We got a letter just one week before the first meeting and there was really no information on it," said Howard Mesa resident Kathy Polk. "There was no phone number and I had to email someone to get the location. It was really short notice."
Good Earth Power Soils, Ltd. and Kevin Ordean of Roots Composting have requested a Temporary Use Permit from Coconino County to process wood chips and wood poles associated with the Four Forest Restoration Initiative with the U.S. Forest Service at a location eight miles south of Valle on State Route 64.
"It's going to be a big impact on us," Polk said.
The company states in their application that between 50 and 150 truck trips per day could be generated by the use. Waste materials such as wood chips and wooden poles would come to site from 4FRI thinning operations in the area and the finished products will be shipped out.
Polk lives just over a mile from the proposed location of the proposed plant. She said one of her main concerns is the increase in truck traffic on highway 64.
"A lot of times there are just a stream of cars," she said of those driving to visit the Grand Canyon. "Certain times of the day are worse, like in the evening when people are leaving the canyon."
Another Howard Mesa resident, Cliff Hall, said he was concerned about the physical impact of heavy truck traffic on the road and the visibility at the entrance to the facility.
"I also wonder how this will affect visitation to the Grand Canyon," he said.
Polk, Hall and a handful of other local residents attended a March 10 meeting with Good Earth representatives at the proposed facility. She said several residents expressed concern about the possible noise and light pollution.
"They talk about using dark sky lights, but even that is going to impact us," she said. "One thing we truly enjoy about being here is that there is no light pollution.
Good Earth plans to reduce noise from a wood chipper that will be operating on the facility by enclosing it.
"They say they are going to put an enclosure around it, but I don't think that's going to make much difference," she said. "They said they were going to run two shifts per day. That's early morning into the evening which makes for a long day of noise from the chipper and trucks driving in and out."
Polk said those in attendance at the meeting were given a chance to voice their concerns, but felt that the mill was already a done deal.
When Polk and others asked why the mill was going in at that location, she said the representative said they were unable to get other locations they had desired near Williams.
"They said they had tried to find a location in Williams or Garland Prairie but they said the city blocked that," she said. "They said a lot of the wood chips and bark would be going to California so this was a good location for them."
Coconino County Planning and Zoning originally planned a community meeting this week, but postponed the hearing to gather more information from Good Earth about its proposed operations at the site.
Good Earth Power did not respond to the News request for comments.