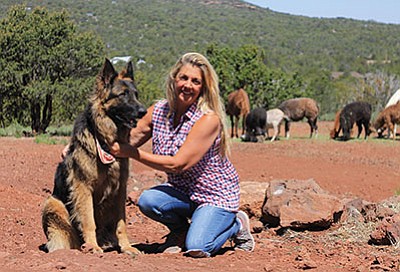 Originally Published: June 7, 2016 1:32 p.m.
WILLIAMS, Ariz. - High on a hillside overlooking the Red Lake community sits an idyllic grey and red farmhouse. Below the house is a red barn with goats, llamas, alpacas and horses in a small corral. Several large dogs rest under a pinon tree.
The setting is peaceful and seems like an idyllic retreat for rest and relaxation. On the property is a business designed just for that, but it's not for people, just animals.
Pamela Balin is the owner of the property and recently put her love of animals into a business when she opened Llama Palooza Ranch in Williams. Llama Palooza is a dog boarding ranch located just north of Williams on highway 64.
"It's very peaceful and stress-free," Balin said. "When you go to PetSmart or another big kennel, there is a lot of barking. Here the first thing they do is run around and have fun."
The ranch is the second dog boarding facility that Balin has owned. She and her husband own another dog boarding facility in Cave Creek.
Balin has always had a love for animals and did a lot of house sitting and pet care prior to opening her first business. Balin said her clients encouraged her to open her first business on her five-acre property in Cave Creek.
Balin recently purchased the house and property in Williams and decided to bring her business up north. The property has a house, bunkhouse and barn on 10 acres.
"The barn and house were here, we did the fencing and some other improvements," Balin said. "It's great because it's fully fenced with areas that are divided."
Balin said most of the dogs can just roam the property and mingle with the livestock. She said each dog is outfitted with a tile that is attached to their collars. Balin can track the animals on her GPS if she needs to immediately locate them.
"They can be off chasing rabbits or whatever and I can see where they are," Balin said.
Balin said all of her livestock have been raised with dogs and she hasn't had any problems between the animals at her Cave Creek location.
"We never really have issues with my horses and llamas, they have been raised around dogs," Balin said. "The dogs have so much room to run and so many things to explore, there just isn't any aggression. They may chase the donkeys, but the donkeys will chase them back."
However, Balin said she has different areas fenced off on the property if some of the dogs have problems with other dogs or the livestock.
Balin said there are automatic water feeders placed around the property and several shade structures, although the property is covered in pinon pines and junipers.
"I'm planning to take in only six to eight dogs per day," Balin said. "They will sleep in the barn in soft clean hay separated from any of the other animals."
Although Balin focuses her business on larger dogs, she will accept smaller dogs in certain circumstances.
"The little tiny dogs are a risk," Balin said. "We worry about owls, but I do get requests for small animals and if the owner is okay with the risk then we can try. They just can't fit through the fence."
Balin said she will also board horses and other large animals.
"I have watched a pig and kept goats for an entire summer," Balin said.
Balin said she had already gotten requests from Phoenix valley residents to board their pets to get them out of the heat.
More information is available from Balin at (602) 214-8224.