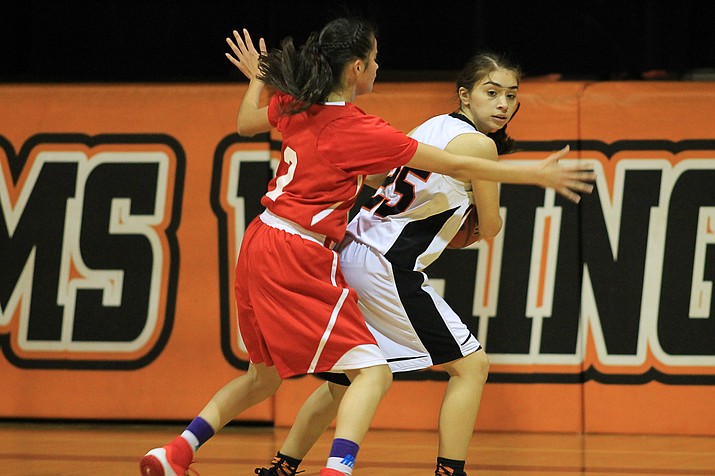 Photo by Wendy Howell.
Originally Published: December 13, 2016 2:07 p.m.
WILLIAMS, Ariz. — Despite the loss of points leader Payce Mortensen, the Williams Vikings toppled Grand Canyon 46-25 to make it three wins-in-a-row, moving to 5-0 and the number one spot in the region.
Mortensen, who sat out the Dec. 10 game, injured his ankle during the game with Mayer Dec. 9.
"We're just giving him a little rest, but he should be good to go soon," head coach Troy Mortensen said.
Mortensen has averaged 17 points per game with eight games played so far this season. Many of those points have come from behind the 3-point line, with Mortensen making 21 such shots so far this season. Mortensen also leads the team with 3.8 steals per game.
Juaquin Gutierrez follows Mortensen averaging 10.5 points per game with 10 games played. He also leads the team with 2.6 assists per game and 3.7 offensive rebounds per game.
Zack Perkins and Stephen Gary follow Mortensen and Gutierrez in scoring with 7.8 and 7 points per game respectively. Gary leads the team in defensive rebounds followed closely by Perkins. Perkins leads the team in combined rebounds and follows Mortensen with 3.3 steals per game.
Gutierrez, Perkins and Brandon Tully led the scoring for the Vikings during the game with Grand Canyon. Perkins put up 12, followed by Gutierrez with 11 and Tully with eight. Tully shot 75 percent from the floor, going 2-for-3 on 3-pointers and 1-for-1 in field goals.
Prior to the win over the Phantoms, the Vikings beat Mayer 58-28 and Joseph City 60-53. The Vikings had lost to Joseph City at the Route 66 Holiday Classic Tournament the previous week.
Mortensen led the Vikings in scoring with Mayer and Joseph City putting up 15 points against Mayer, which included five-of-six free throw attempts. Perkins followed in scoring 12 points, going five-for-eight from the floor.
During the Joseph City game, Mortensen made 24 p
oints and went 4-for-7 in 3-point shots. Gutierrez followed in scoring with 16, going 6-for-12 in field goal attempts. Diego Pedraza led in steals.
The Vikings hit the road for four games over the Christmas break, heading to Seligman, Chino Valley, Ash Fork and Camp Verde before returning home to face Mingus Mountain Jan. 12.
The Lady Vikes are 1-4 in regional play with their only win coming from a Dec. 3 game with Seligman where they won 40-10.
The girls also take to the road for three games, returning to Williams Jan. 12.