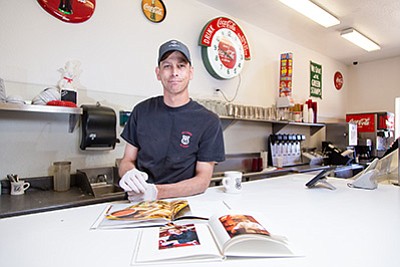 Originally Published: April 5, 2016 10:55 a.m.
The Chef: Jason Moore, Twisters 50s Soda Fountain
What's cooking: Charbroiled burgers, catfish, chili dogs and salads
What is your most popular dish?
People ask for catfish, ice cream and burgers.
What do you recommend besides that?
I recommend the barbecued pork ribs and the catfish. Our catfish is farm raised and hand breaded with our own recipe.
What do you recommend for dessert?
We have a lot. The banana split is good, the chocolate malt, ice cream soda...
What is your favorite part of the job?
Closing and drinking a beer at the end of the night. Actually my favorite part is when I can pay the water bill.
What is your background?
My dad taught me to cook catfish, which he learned from my grandpa. My mother died when I was little and my dad was always working, so I had to cook. It was either starve or cook.
What is the weirdest request you've gotten recently?
There's been a lot over my 11 or 12 years here. I remember a guy from New York who wanted peanut butter on a burger.