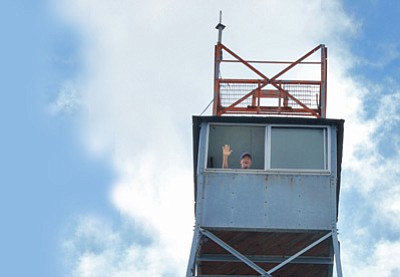 Originally Published: September 15, 2015 noon
WILLIAMS, Ariz. - All is quiet on the Kaibab tonight.
The view is spectacular. Kendrick, Humphreys, Sitgreaves, Mingus, and the city of Williams stretch out below in a sea of green.
"It's smooth and green like a putting green," said fire tower lookout Jeff Newton.
Newton is the summer watchman for the Bill Williams fire tower on Kaibab National Forest. During the summer season he spends his days in a 7-by-7-foot bird's nest, 45-feet above the ground watching for lightning strikes and the telltale sign of fire; swirling puffs of smoke.
As the northern Arizona wildfire season eases to an end, Newton continues to survey the Ponderosa pine forest below for any recent smokes.
"We have had quite a few starts between Tusayan and here," Newton said. "This summer we sometimes had five or six a day."
Newton is responsible for not only locating fires, but also directing the firefighters to the blaze. He utilizes a spotting scope and binoculars to get a visual and then uses an alidade called an Osborne Fire Finder to find the bearing of the smoke. As firefighters drive and hike to the locations, Newton directs them via radio and often a simple mirror system.
"There's no substitute for knowing the lay of the land and being familiar with the landmarks," Newton said. "For me I take it personal, I get aggravated when I get it wrong."
It often takes fire fighters several hours to get to these remote locations. Having the bearing off by even half a mile can add several hours to the trek for the fire fighters.
"I guide them," Newton said. "But that's the problem, sometimes I can't see that canyon, sometimes I don't know that canyon exists. It's smooth, then all of a sudden the sun will shine or a cloud will roll over and I'll see a drainage that I had no idea existed. I'm grateful our crews are so understanding."
An historical legacy
The Civilian Conservation Corps built most of the United States fire lookout towers in the 1930s. According to the Forest Fire Lookout Association, at one time there were 8,000 fire lookouts across the country. Today there are about 2,000 lookouts with only about 500 staffed by paid observers or volunteers.
The first lookout on Bill Williams Mountain was a high stump with an alidade in 1910. It was replaced in 1924 with a 30-foot wooden tower. The present tower is a 45-foot tall Aermotor MC-39 steel tower that was constructed in 1937. It is a typical prefabricated modular from that era that was designed to be carried to the top of the mountain in pieces.
Coconino and Kaibab National Forests have 31 active and inactive fire towers. The Kaibab has eight active fire lookout towers. They are located on Red Butte, Jacob Lake, Dry Park, Big Springs, Grandview, Kendrick, Volunteer, and Bill Williams. Bill Williams is the smallest, while Kendrick is the largest with a 14-by-14-foot cab and a catwalk.
"This one's like Motel 6," Newton joked. "That one (Kendrick) is like the Hilton."
The quintessential job
Being a fire lookout fits Newton well. He spends his winters teaching Advanced Placement Calculus in a San Bernardino, California high school and his summers working for the U.S. Forest Service. This is his third year with Kaibab National Forest as the Bill Williams lookout.
Newton lives at the base of the fire tower in a small cabin. He works throughout the week and is relieved on the weekends by a volunteer. The solitude of the fire tower job allows him to read and continue his doctorate work in applied mathematics and physics.
"I like Herman Melville, Catcher in the Rye, Joseph Conrad's 'Heart of Darkness,'" Newton said. "I really feel like I'm in the heart of darkness sometimes up here."
The fire lookout position gives Newton the opportunity to spend time in the outdoors and observe wildlife. In the mornings and evenings he hikes the trails and rides his bike. From the tower he has seen eagles, falcons and other birds.
"It's so neat to see these hawks, these raptors, come up and catch the updraft," Newton said. "They're literally suspended. I recently saw this hawk swoop down and come back up with a Steller's jay in its talons."
Newton also enjoys the intensity of the weather at 9,256 feet. On the mountain there is constant wind and almost daily thunderstorms. Newton has witnessed many nearby mountain top lightning strikes and is grateful that the tower is grounded.
"It's like an E-ticket ride at Disneyland," Newton laughed. "...the E-ticket used to be for the best ride. It was like the Matterhorn. Well riding it out in here is like riding the Matterhorn. Its stunning, just stunning what you see."
More like this story