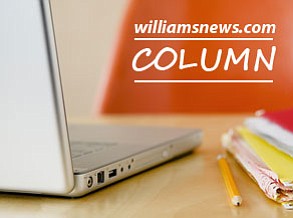 Originally Published: September 8, 2015 10:23 a.m.
Amateur photographers alert: there's a 342-page guide to photography at the Williams library that offers everything needed to learn how to turn out creative, professional-quality work beginning tomorrow.
Experienced amateurs know that producing a worthy photograph involves much more than a finger on a button. Forty-year photographer John Garrett's book is directed at demystifying those additional skills.
Part history, part technical manual, part art course, the book illustrates the author's keep-it-simple philosophy while churning out a wealth of use-it-today photographic knowledge. The information is delivered through 25 chapters and a handful of appendices.
There are the basics - the aperture/shutter marriage, framing, natural vs. artificial light, lenses, filters, exposure, auto focus. Then there is the application of those basics, delving deeper into the art itself.
"Learning to See" addresses color thinking and management, and tricks for drawing beauty out of the mundane. The laws of composition are laid bare, as are those for producing stunning visual effects.
The full range of subjects are covered - portraits, landscapes, still life, children, action and travel. The drama of black and white is covered here, as are the special needs of digital photography. Pixels count. Presented in a refreshing manner that respects the reader, the "K.I.S.S Guide to Photography" is well worth a read
Gallery profile:
The Open Studios
The laughter you hear from the west end of town is coming from Helen Gorney, entrepreneur, artist, gallery owner, positive thinker and community fixture for some 38 years.
She and husband Rich joined the Williams business community in 1977 with the purchase of the Grand Canyon KOA, a seven-year project, followed by their own restaurant, the Hot Dog Corral, their own catering business, a fascinating period as food and beverage directors for the Grand Canyon Railroad, and the better part of a decade as agents, then owners, of Bankers' Real Estate.
Helen is known for her success, while chairman of the Williams/Grand Canyon Chamber of Commerce, in initiating the popular Taste of Williams event, the Chamber's largest fundraiser. She started painting in 1976, and spent a period more recently displaying at The Gallery in Williams. But her entrepreneurial spirit - and empty space in the shopping center they had purchased - led to the opening of her own gallery, The Open Studios. Today the space displays the work of 15 artists in a variety of media, with prices ranging from $100 to $2,000.
Her studio takes an active role in the monthly Art Walk, and conducts Saturday Markets the first and third Saturdays of each month. When not preparing for these events, she can be found producing artisan breads and other acclaimed baked good, or she is off to Long Beach for another cruise.
Mike Sheehan
Williams Area Artist
More like this story