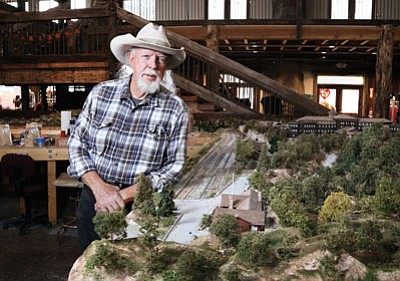 Originally Published: October 20, 2015 12:51 p.m.
WILLIAMS, Ariz. - As a cowboy singer on the Grand Canyon Railway for 17 years, Jim Garvey entertained thousands of visitors with his vocal skills. Known to many as Colonel Jim the cowboy singer, he became popular on the train.
Unknown to many is that Garvey is also a talented artist. He spent those 17 years not only singing, but also absorbing the sights and history of the Grand Canyon Railway. He researched the history of the railway and the communities that lie in its path and slowly recreated them in miniature.
"After 4,000 trips to the Grand Canyon and singing every day, I finally decided to replicate the entire Grand Canyon Railway in miniature and bring in a railroad," Garvey said.
Garvey began his project by creating the Grand Canyon Depot. Francis W. Wilson designed the original 3,000 square foot log structure to echo the detail of the El Tovar hotel. It was built in 1910 and was declared a National Historic Landmark in 1987.
"During my three and a half hour lunch breaks...I would go out and photograph and measure the buildings," Garvey said. "I made friends with Virginia Martin at Kolb Studios and started reading all the books."
Garvey created dozens of Grand Canyon Railway buildings, but it took him the most time to recreate the Grand Canyon's El Tovar Hotel.
"It took me three and a half years to build," Garvey said. "Every level, every log is hand notched. It took me one whole winter just to carve all the vents in the main building. I hand laid every row."
As Garvey studied the architecture and design of the historic buildings, he learned about the history of the railway and Grand Canyon, which he shares now with the public.
"Now this brown building has been torn down," Garvey said as he pointed to a miniature cabin. "It was the original men's dorm. The one next to it was the women's dorm for the Harvey girls. This other one is the original Bright Angel Lodge that James Thurber brought up from the stage coach stop before Mary Colter was hired to tear all this down and build the existing Bright Angel Lodge in 1934."
Garvey kept his railway models on his ranch north of Williams. He would invite friends and colleagues over to run the model trains and share his creations. At one point some of the buildings were brought to the Grand Canyon Railway Depot in Williams, but space became an issue.
Bearizona CEO Sean Casey heard about the railway collection and visited Garvey at his ranch. Casey was so impressed with the work, he purchased the project to install in the new Bearizona Wildlife Park gift shop. Garvey is setting it up for display and is planning to do educational programs in coordination with Casey.
"Its just an amazing work of art," Casey said. "It was in a trailer stacked along the walls and you had to use your imagination. Now he has a big flat area to spread it out."
Garvey's buildings are created from blueprints that he designed. He takes the actual measurements from the original buildings and collects the details. His Hopi House replica took him nine months to complete. He hand cut every stone and lined the pathways with trees. He wants the buildings to be as realistic as possible.
Garvey spent time hiking around Maricopa Point to photograph Grand Canyon Village and the cliff walls. He uses the photographs to accurately recreate the walls and vegetation to use in his display.
"I just finished Verkamps a few months ago," Garvey said. "All the layers of shingles and the outside walls are dead on. I hand made every tree too. The armature is Australian sagebrush that I break off and dip in glycerin to seal since was an actual living plant. It gives it the real texture, feel and airiness of real trees."
Garvey's attention to detail includes miniature human figures too. Many of these figures are replicas of actual people Garvey has come to know on the Grand Canyon Railway. They include locals John Moore, Bernie Hiemenz, and Calvin Kristoffersen.
"That's how I remember my different friends," Garvey said.
Many of the replica buildings have detailed interiors that can be viewed. One of the buildings Garvey made recently is one of the original sawmills in Williams. The interior has saws, runoff benches, steam engines, leather belt drives, air tanks, mulching machines, conveyor belts and creosote tanks.
Garvey said it will take him about another month to have the buildings and railroad display complete at Bearizona. He is mostly working on the filler, as the large structures are complete.
"It's just a matter of dropping them in and hooking things up," Garvey said.
Garvey does plan to continue creating more Grand Canyon Railway buildings in the future. His next project is the old freight house in Williams. The freight house is currently used as the Williams Visitor Center.
Anyone interested in viewing Garvey's miniature Grand Canyon Railway can see it at Bearizona Wildlife Park at 1500 Historic Route 66 in Williams.
More like this story