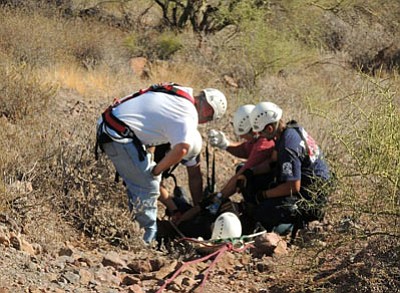 Originally Published: October 13, 2015 11:09 a.m.
WILLIAMS, Ariz. - Despite being a volunteer organization, Williams Fire Department is ensuring that their firemen receive top notch training every year.
Several members of the department recently returned from the Arizona State Fire School in Mesa, Arizona, where they received specialized training in rope rescue, litter carrying, vehicle stabilization, patient extrication and fire leadership.
"It's probably one of our biggest trainings of the year," said Williams fireman Kevin Schulte.
The State Fire School is run by a volunteer group of dedicated fire service professionals. The first fire school started in 1973, with the goal of improving the safety of Arizona's firefighters by offering high quality training. The fire school offers several days of workshops for volunteer and paid firemen throughout the state.
Each year the Williams Fire Department sends several firemen to the training where they have a buffet of courses to choose from. They offer courses such as basic firefighter skills, emergency vehicle driving, confined space rescue, fire investigation and rural department management.
"We try to get a couple people down there every year," Schulte said.
In the past the department paid for the courses out of their training funds, but this year the department received a scholarship.
The department does have its own training classes but Schulte said they try to send members to the State Fire School and the National Fire Academy in Maryland when they have the opportunity. He said the courses are often low cost or free, but the difficulty lies in the firemen finding the time off to travel. He said many members have to take leave from their jobs without pay to attend.
According to Williams Fire Chief Chase Pearson, the department responds to hundreds of calls each year that include medical calls, highway accidents, brush fires and structural fires. They also occasionally assist with search and rescue operations.
"That's why we go to the training in Phoenix," Pearson said. "It has so many different types of training. We'll get one or two of our people to know that particular part really well and they can bring that training back to the department. We will then all get an awareness level training of what to do on those types of calls."