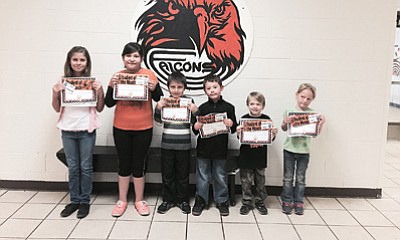 Originally Published: October 13, 2015 10:52 a.m.
WILLIAMS, Ariz. - Williams Elementary-Middle School announced its Students of the Month for October.
The kindergarten student of the month is Bristol Skinner. Bristol's teacher said that Bristol is a great student who follows directions and is quiet and respectful. She is a good friend to others and always does her homework. She is very happy to have Bristol in her class.
The first grade student of the month is Cody Lucus. Mrs. Honsinger said that he is an amazingly curious little boy who is interested in all subjects. He is polite, very attentive, and gives 100 percent of his effort into everything he does. He is very meticulous with his work, is always kind to others, and is a fantastic citizen in class. Mrs. Honsinger is very proud of him.
The second grade student of the month is Tyler Hensen. Tyler's teacher said he is a great young man and student. He is respectful, kind and hard working. Tyler completes all assignments in class with 80 percent or better scores. He has a great personality and brings a warm smile to class every day. He is a pleasure to have in class.
The third grade student of the month is Thomas Gonzales. Thomas' teacher said he is such a quiet student in her class but never gives up a chance to participate. He does a great job completing his work in class and with a little motivation, has improved on bringing back his homework folder every day. His teacher really enjoys having Thomas in her class.
The fourth grade student of the month is Mia Delvilla-Elias. Mia is a new student to WEMS and her teacher couldn't be happier to have her in room nine with the class. She is hardworking, kind, and very bright. She comes in everyday prepared and ready to learn. She is a great role model and her teacher can't wait to see how far she grows this year.
The fifth grade student of the month is Alexia Sandoval. Alexia's teacher said that Alexia is an excellent student who takes pride in her schoolwork and always does her best. She is a positive role model and leader for her peers. She always has a smile on her face. She is willing to help her fellow classmates with their schoolwork when they may need some extra support. She is very upbeat and a pleasant addition to her class.