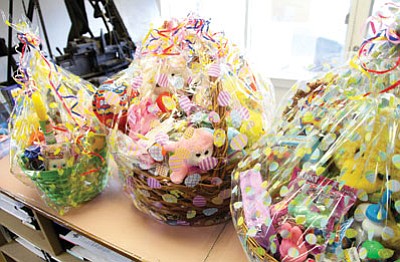 Originally Published: March 17, 2015 11:07 a.m.
WILLIAMS, Ariz. - With the school year winding down, the class of 2015 is getting ready to graduate. To keep students safe on graduation night, the Parents Who Care Committee is organizing its annual Senior Grad Night and is still accepting donations for the May 22 event.
The annual Grad Night celebration includes food, entertainment and prize drawings. The Parents Who Care Committee hopes to raise about $20,000 to put on the event, and are about halfway toward their goal.
Senior Grad Night started in 2008 after five teenagers died in an alcohol and drug related accident in 2007.
"It's important to have this event to keep the seniors from going out and making bad choices," said Grad Night coordinator Jeanette Perkins. "It just keeps them together, and it gives them one more night to be with their classmates before they go on with their lives. We're just trying to make it a memorable night for them."
This year's event will include a photo booth, a bungee run, a velcro wall and an inflatable laser tag maze. Additionally, students will be able to use the Williams Recreation Center facilities, such as pool tables, air hockey tables and the swimming pool.
At the event, graduating seniors will be entered into a raffle to win prizes like laptops and iPads.
"Once we reach our (fundraising) goal we will be shopping to buy big electronics, things to help them as they go on to college," Perkins said.
To help raise money for Grad Night, the Parents Who Care Committee and students have organized several fundraisers.
The group will raffle off five Easter baskets on April 1 at the Williams Senior Center. Tickets are $1 apiece or six for $5.
A 50/50 raffle will take place on April 25 at the Kite Fest. The tickets are $10 and only 1,000 are available. Grad Night will receive $5,000 of the proceeds. Raffle winners will receive $2,500 for first prize, $1,500 for second prize and $1,000 for third prize.
People can also enter to win a HOWA .22-250 rifle with a Nikko scope. The raffle tickets are $10 for one ticket or three tickets for $20. The drawing will take place May 1 at Wild West Junction. The winner must be able to legally possess a firearm.
Raffle tickets for all three raffles will be available at Old Trails on March 28 from 9 a.m. to 5 p.m. Ticket holders do not need to be present at the time of the drawings to win.
Besides the raffles, the Parents Who Care will put on a Navajo taco sale on April 10 and an enchilada sale on May 1. Navajo tacos will cost $5 and enchiladas will be $10 for a dozen. The sales will take place at the First Baptist Church. Grad Night representatives will take orders before the sales.
More information about supporting Senior Grad Night is available from Perkins at (928) 853-0714.